International games sees Polish champion for 4th year
Monday 13 May 2019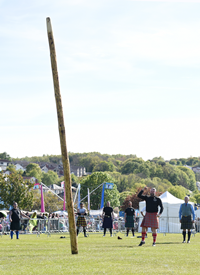 Lucas Venta, the Polish-born athlete, scooped the top prize in the Gourock Highland Games events for the fourth year in a row.
Lucas has now won the top prize in all events since the competition moved to its new permanent home at Battery Park.
In the piping competition, Scottish Power Pipe Band picked up first place in the grade one competition. This is only the third time the Gourock Highland Games has hosted grade one bands, the highest level of piping.
And one of Inverclyde's own pipe bands, St Columba's School from Kilmacolm, scooped the top prize in Grade 4b.
The Gourock Highland Games, held on Sunday 12 May, traditionally starts the Scottish Highland Games and piping season in Scotland.
The event is estimated to have had around 10,000 visitors attend to over the course of the day which saw glorious sunshine once again.
Visitors travelled from across the world to enjoy pipe band competitions, traditional Highland games, Highland dance competitions, and a range of sporting activities across the day.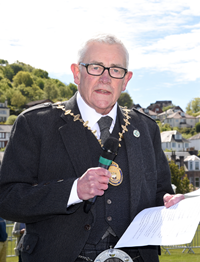 The Chieftain for the games was Inverclyde Provost, Martin Brennan, who said, "I would like to thank the many thousands of people who attended the Gourock Highland Games. It is an honour to have been chosen to be the Chieftain of the games and the day couldn't have been better with lots of happy smiling faces, plenty of competition and some fabulous weather.
"The Games get better each year and are proving to be an international draw with visitors travelling from across Europe and further afield to attend the games as part of their visit to Scotland. Some people attending had even arranged their holidays specifically to coincide with the Gourock Highland Games.
"The Gourock Highland Games is an event which is growing in stature and confidence. It has carved out a unique position in Scotland's piping and games event calendar.
"The weather was glorious and the sights and sounds were spectacular as thousands of visitors joined in the celebrations to mark the start of the Scottish Highland games and piping season for 2019."
Pipe Band and Drum Major first places –
The first place winners in each of the pipe band and drum majors grades are: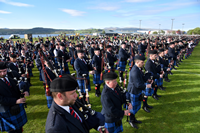 Grade 1 - Scottish Power Pipe Band
Grade 2 - Uddingston Strathclyde Pipe Band
Grade 3 – Oban High School
Grade Juvenile – Stirling and District Pipe Band
Grade 4a – North Lanarkshire Schools pipe band
Grade 4b - St Columba's School Pipe Band, Kilmacolm
Drum Major adult final - Gibb Fraser of Coalburn IOR
Drum Major juvenile final - Beth Turner of Uddingston Strathclyde
Heavy events competition 2019 -
1st - Lucas Venta (Poland)
2nd - Kyle Randalls (Falkirk)
3rd - Craig Winslow (Kirkintilloch)
4th - Stuart Anderson (Lochearnhead)
5th - Chris Beetham (Alloa)
6th - David Hart (Kinross)
7th - Ben Buchanan (USA)
8th - Ross Broom (Whitemoss)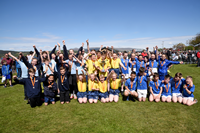 Mini Highland Games 2019 –
1st place - Gourock Primary School
2nd place - King's Oak Primary School
3rd place - St Ninian's Primary School
Page last updated: 13 May 2019