Inverclyde launches Scotland's first autism friendly library service
Wednesday 29 May 2019
Local autism awareness campaigner, Laura Graham, has given Inverclyde Council's her seal of approval after it set up Scotland's first autism friendly library service as part of its Au-some libraries project.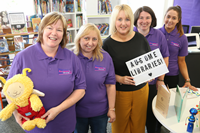 The project is intended to provide children and adults, who are on the Autistic spectrum, with a calm, quiet place to relax and enjoy books, reading and other activities.
The project also provides parents with a safe space where 'no-one is going to say shush.'
Laura runs Kerr's Journey, a social enterprise which offers support to autistic children and their families. She was inspired to start the group after her youngest child, Kerr, was diagnosed as autistic at the age of three.
Shortly after Kerr was diagnosed, Laura searched for support for autistic children and their parents but found little on offer. She said, "I felt everything was for older children. There was nothing for toddlers, especially pre-diagnosis.
"The Au-some libraries initiative is really, really needed especial for the three to four year old age group. Having a child with autism can be so stressful. Kerr will literally try to climb the bookcases and comes across as a naughty child. It's a real relief to be sitting next to a mum or dad who knows what you're going through without them watching and judging. You're understood.
"This project is ideal. You couldn't ask for more and it fits in perfectly with what I'm doing to try and create an autism friendly Inverclyde."
Councillor Jim Clocherty, Convener of Inverclyde Council's Education & Communities Committee said, "We had a lot of feedback from our customers that libraries are an excellent place for people who are on the autistic spectrum. They are quiet, well ordered places. These qualities make them ideal for people who need stability, routine and an environment that doesn't shout at their senses.
"It's very encouraging that Laura has recognised the value of what we are trying to do. Libraries are an incredible resource and we want them to be as accessible as possible to as many people as possible."
Last year Inverclyde Council secured over £9,000 from the Scottish Library and Information Councils Public Library Improvement Fund for the Au-some Libraries Project.
The cash has been used to provide: training in Makaton sign language to help non-verbal children; stress relievers, sunglasses and ear defenders to prevent sensory overload; books about autism and books specifically for children who are on the autistic spectrum.
Au-some Bookbug Session
On the last Wednesday of each month Greenock Central Library hosts autism-accessible afternoons to support adults and children with autism or additional support needs. The afternoons include an Au-some Bookbug Session with Makaton signing from 1.30pm - 2.15pm followed by Quiet Library Time from 2.30pm - 4.30pm.
The Quiet Library Time offers:
Reduced noise levels
Informed and understanding staff
Autism, BSL and Makaton book collections
Access to sensory resources and stress-relieving equipment
Colour coded library floor plans
Quiet activity tables.
About Autism
Autism is not an illness or a medical condition with treatment or a cure. People with autism have more densely packed brains. They also have more neurons – the brain's electrical connections. This gives people with autism a different way of thinking and feeling. They also experience the world differently.
Autistic people may:
Find it hard to communicate and interact with other people
Find it hard to understand how other people think or feel
Find things like bright lights or loud noises overwhelming, stressful of uncomfortable
Get anxious or upset about unfamiliar situations and social events
Take longer to understand information
Do or think the same things over and over.
Page last updated: 29 May 2019