More to do after pioneering 10 year anti knife campaign
Wednesday 6 November 2019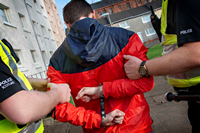 Ten years of an anti-knife education campaign have been marked in Inverclyde.
The pioneering 'No Knives, Better Lives' campaign was piloted in Inverclyde 10 years ago before being rolled out across the country.
And councillors have issued the message that after 10 years of success more needs to be done to spread the word.
Education convener Councillor Jim Clocherty said: "The campaign is a primary prevention initiative that specifically addresses the issue of knife carrying in Scotland.
"There can be no doubt that lives in Inverclyde and in Scotland have been saved as the programme worked with young people to highlight the devastating impact carrying knives has on people, families and communities.
'No Knives, Better Lives' is a national programme designed to deter young people from using and carrying a knife. It is a youthwork focused initiative supported by the Scottish Government and delivered by YouthLink Scotland, the national agency for youth work in Scotland, in collaboration with local partners including Inverclyde Council.
Councillor Clocherty, added: "High profile incidents in our area recently show that work still needs to be done. The message needs to go out that carrying a knife is not acceptable and as a society we all have a role to play in supporting the messages and actions of the 'No Knives, Better Lives' campaign."

The focus of 'No Knives, Better Lives' is prevention, helping and supporting young people to change or challenge behaviours.
It was first piloted in Inverclyde in 2009 and by 2019 was undertaking work with all 32 Scottish council areas.
Councillors on the education and communities committee recognised the 10 years of the campaign, paid tribute to the work of John Muir who has campaigned tirelessly after the loss of his son to knife crime and endorsed the use of Crimestoppers 'Fearless' programme and its links to 'No Knives, Better Lives' delivery in Inverclyde.
Page last updated: 6 November 2019