Plans to mark 16 days
Wednesday 6 November 2019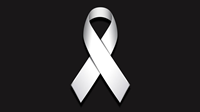 Inverclyde Council will raise awareness of issues around violence to women.
The 16 days of activism to eliminate violence against women runs every year across the world from the 25 November (The International Day for the Elimination of Violence against Women) to 10 December (Human Rights Day).
The two dates symbolically link to emphasise violence against women as a violation of human rights.
Inverclyde Council's Education and Communities Convener, Councillor Jim Clocherty said: "The 16 days is an opportunity to stand together and show our opposition to violence against women.
"Wearing the white ribbon, taking part in activity on their own may not seem like large actions. It is the combined effort of all of us joining together and showing our public support for this important campaign."
The first 'white ribbon campaign' was launched in 1991 by a group of Canadian men opposing men's violence against women, following the mass murder of 14 female students at the University of Montreal on 6 December 1989 by a gunman opposing feminism.
Inverclyde's women's champion, Councillor Lynne Quinn said: "Wearing a white ribbon signifies a pledge never to commit, condone or remain silent about violence against women.
"It is a public message where we each pledge that we won't standby and allow violence.
"The Scottish theme of 'wellbeing' has been agreed for the 2019 16 days. Improving women and children's wellbeing is a key outcome within 'equally safe: Scotland's strategy for preventing violence against women and girls."
In Inverclyde during the 16 days, messages will be promoted each day across a range of mechanisms to raise awareness of the issues and what support is available.
The council will also deliver 'equally safe' messages in secondary schools through performances of a play.
The play 'Kaleidoscope' highlights Coercive Control in relationships.
Messages conveyed in the play are consistent with changes in legislation in the new Domestic Abuse Act.
Page last updated: 6 November 2019