Staff get flu jab to protect front line services
Thursday 7 November 2019
Health professionals and social care staff in Inverclyde are queuing up to get their flu vaccines to make sure the virus doesn't decimate services for the sick, elderly and vulnerable this winter.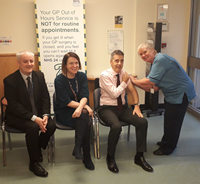 Councillor Robert Moran, Convener of Inverclyde Council's Health & Social Care Committee, said, "The Inverclyde Health & Social Care Partnership (HSCP) and NHS Greater Glasgow & Clyde are making sure as many of their staff as possible have had the flu vaccine.
"The winter months are the busiest time of year for the health and social care services. So it's vital to have a full complement of staff available to treat the sick and provide care for the elderly and vulnerable.
"Flu can be unpleasant but if you're otherwise healthy it will usually clear up on its own after a week. But it can be much more severe in people who are: over 65, pregnant, already have lung or breathing problems or who have a weak immune system for whatever reason.
"So it's also extremely important that those who are looking after the very young and the very old are fit and healthy and don't pass anything on to vulnerable patients or clients.
Flu vaccinations are available on the NHS to help protect adults and children who are at risk of flu and its possible complications.
The flu vaccine is routinely available on the NHS to:
Adults who are 65 and over
People with certain medical conditions
Pregnant women
Children aged 2 and 3 years old on 31 August 2019
Children in primary school
Frontline health or social care workers.
Flu vaccinations are available from: GP surgeries, local pharmacies which offer the service and midwifery services. The best time to have a flu vaccination is during the autumn. Unpaid and young carers are also advised to have the vaccination.
Page last updated: 7 November 2019