Inverclyde Council Leader seeks assurances on Ferguson Marine's future
Councillor Stephen McCabe, Leader of Inverclyde Council, is calling on Derek Mackay, Finance Secretary, to provide assurances about the future of the Ferguson Marine Engineering shipyard in Port Glasgow.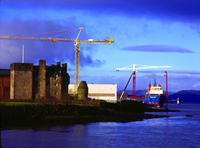 He is also calling for an investigation into how the contract with Caledonian Maritime Assets Limited (CMAL), for two ferries for CalMac, was managed. The failure of that relationship was instrumental in pushing the yard's finances into the red.
Ferguson Marine Engineering employs some 400 people in Inverclyde and is crucial to the local economy.
Councillor McCabe said, "As the only surviving commercial shipyard on the Clyde, Ferguson Marine Engineering and its workforce are a virtually unique, national asset.
"In this capacity, I am looking for assurances on the role, beyond the current ferry contracts, that Ferguson Marine Engineering has to play in the country's industrial and maritime strategies. It is important to know, specifically, the role that the yard might fulfil if Babcock International secures the contract to build the Royal Navy's Type 31 Frigates.
"Beyond the potential Babcock International contract, I am also seeking to know what other contracts Ferguson Marine Engineering might tender for and what other long-term opportunities the Scottish Government has identified to secure these vitally important, local jobs.
"I want assurances that the previous owner's expansion plans for the yard, and the proposed increase in the workforce, are not scrapped but play a key part in the Scottish Government's plans for the yard's future.
"It is also crucial that any local supply chains are strengthened and that we, and our partners, continue the strong relationship we have with Ferguson Marine Engineering in supporting training and development opportunities.
"Jim McColl has claimed opportunities were missed to resolve the issues between Caledonian Maritime Assets Ltd and Ferguson Marine Engineering in relation to the ferry contract. While I am seeking immediate assurances about the yard's future, I firmly believe there are questions to be answered at a national level around this and that an independent investigation is required."
Caledonian Maritime Assets Limited (CMAL) owns the vessels, ports, harbours and infrastructure for the ferry services serving the west coast of Scotland and the Firth of Clyde. It is also responsible for procuring new ships.