Local libraries launch free Discover IT courses
Friday 13 September 2019
People who are dazzled by downloads and at a loss with logins are being invited to Discover IT through a range of free courses available from Inverclyde Council's Library Service.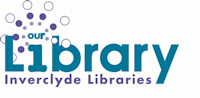 The courses start on Monday 16 September 2019 and run until Friday 22 November 2019. Leaflets are available at local libraries detailing when and where the courses are being held. They're also available by clicking on the link on the left-hand-side of this page.
Places are allocated on a first come first served basis.
Councillor Jim Clocherty, Convener of Inverclyde Council's Education & Communities Committee, said, "Being IT literate today is the same as learning the three Rs a generation ago. Digital and information literacy is now an indispensable skill when it comes to: learning; being able to play a full part in today's online society; communicating with other people and improving your economic position.
"So much today is 'digital by default' that people are automatically excluded if they don't know their way around an iPad, a tablet or a laptop.
"These courses cover the basics and also offer people an opportunity to share their skills and make new friends. Most importantly, they are free!"
The courses are:
Get IT right for you drop-in
This is an informal chat with the learning services team to gauge where a person's skills are now, where they would like them to be and which of sessions will be best for them. The drop-in session last for two hours and there's no need to book.
Bring IT On!
This new six week course is for learners with little or no experience with computers. It builds foundation skills then moves on to the essential skills needed to make the most of a computer.
iOhYes: iPad for Beginners
This revamped basic iPad session gives an overview of using the device practically and covers touchscreen gestures, apps, using the Internet safely and legally, iMessage, Facetime, iCloud and synching an email account to the Mail app.
Device Advice
This session offers people straightforward help on how to use their Android tablet or mobile phone. Session last half an hour and are by appointment only.
WhIT's the Script? Digital Storytelling
This course helps people to use their newly acquired tablet skills to record a story using audio, video and pictures.
Books for the Busy
People can learn how to download library eBooks or eAudio books onto a tablet or smartphone allowing them to borrow books anytime!
Tea and Touchscreens
The mobile device Chatty Café session at Gourock Library is an opportunity for people learning to use a device to get together and make new friends while talking about their experiences and sharing knowledge.
Page last updated: 13 September 2019