CSI and 'Captain America' volunteering in Inverclyde
Tuesday 7 April 2020
COUNCIL staff in Inverclyde were shocked to discover this week that Steve Rogers (aka Captain America) and Jim Sinclair, a top Crime Scene Investigator, are working with them as volunteer minibus drivers.
Heather Simpson, Operations Manager with the Inverclyde Health & Social Care Partnership (HSCP), was giving the two men her top tips on how to don sterile gloves and make sure their vehicles are scrupulously clean and clear of coronavirus, when she spotted them give each other a look.
Heather said, "I was busy telling them how to use gloves and to make sure that they used them only once and then disposed of them and they just looked at me.
"It turns out Jim has been a Crime Scene Investigator with Police Scotland for the last 17 years and Steve served 25 years in the Army - with the better part of his career spent instructing squaddies about Nuclear, Chemical & Biological Warfare (NCB). And there was me trying to tell them about contamination! I suddenly thought I'm talking to the wrong guys and we had a wee laugh about it."
Jim and Steve are key members of a Covid-19 Key Transport Team which includes the Inverclyde Voluntary Council for Social Services (IVCSS), the HSCP, River Clyde Homes and The Advisory Group. The team provides support to vulnerable people in their own homes and sheltered accommodation and helps with hospital discharges during the emergency. Jim and Steve volunteer with the IVCSS and Jim is also its Secretary.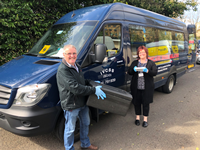 Jim said, "Before the emergency I used to volunteer in my spare time and I did the school runs for kids in wheelchairs and their carers. I was known as CSI Jim. The kids loved it.
"At work I wear the full white suit and there's a special way of putting it on too. You start with the FFP3 mask, then the gloves, then the white suit, then your hair mop, then a second set of gloves and then the goggles.

"Locard's Principle is the keystone of CSI practice. Dr Edmond Locard was known as the Sherlock Holmes of France. He said that the perpetrator of a crime will always bring something into the crime scene and leave with something from it and that both can be used as forensic evidence. As a Crime Scene Investigator it's crucial that we don't contaminate the evidence by leaving our own DNA or fingerprints at the scene.
"In this case it's crucial that we don't bring Covid-19 into our vehicles or take it back into the wider community."
Steve said, "I was a Sergeant Instructor in the Royal Engineers and one of my roles was to teach NCB warfare. The course covered how toxic chemicals were absorbed and how you decontaminated yourself and your vehicle. It even covered what toxic substances smell and taste like! That was my specialty.
"That said, you never know everything. It was good to listen to Heather. People tell you information for a certain reason. There's nothing worse than a know it all. It can be dangerous when people think they know everything
"I'm glad we amused Heather. I think we're her daily cheer up guys! She said, 'No way! He's here, he's here. Captain America in Inverclyde."
Councillor Stephen McCabe, Leader of Inverclyde Council said, "Both Jim and Steve have given a lifetime of service to their country and their community. Even before the current emergency they were both volunteering with the IVCSS. They are an example to us all of how we can use our time and knowledge to help the vulnerable members of our community during this extremely difficult time.
"Jim and Steve both have a very specific set of skills. I would urge anyone who has experience or knowledge that could be useful during the current emergency to come forward and work with us."
Page last updated: 7 April 2020