Food for thought – two tonnes of it
A TERRIFIC two tonnes of food is on its way to vulnerable people across Inverclyde.
The council teamed up with charity food distributor FareShare to get goods to those who need it the most amid the coronavirus pandemic.
Local authority staff collected the large quantity of provisions from Glasgow and dropped them off at Greenock Town Hall where a small army of colleagues volunteered to safely sort the items ready for collection by community groups, including Belville Community Garden, Branchton Community Centre, Inverclyde Foodbank, The Trust, Parklea Branching Out, Barnardo's and Home Start Inverclyde.
Third sector support organisation CVS Inverclyde was also involved by recruiting helpers, including staff from Scottish Gas, who kindly helped deliver goods.
Councillor Jim Clocherty, Convener of Education & Communities, said: "This was a real team effort and I thank everyone involved for making this happen.
"It's a wonderful example of community spirit in action with the council working alongside several groups, charities and organisations to get vital support to those who need it the most across Inverclyde.
"Amid all the uncertainty and heartache caused by coronavirus, heart-warming initiatives like this helps lift our spirits and, most importantly, makes a huge different to people who, through no fault of their own, are struggling at this time.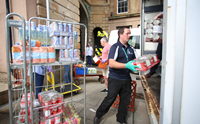 "As a council, we are committed to helping the most vulnerable people in society and tackling deprivation as best we can."
The food arrived at the town hall on Thursday afternoon and was immediately sorted and sent out.
A variety of council staff offered their services to help with the operation, working throughout the afternoon and into the evening.
The mountain of goods delivered to the town hall included tea bags, tins of soup, bags of sugar, bottles of fresh orange juice, long-life milk, potatoes, pasta and an array of other fresh and canned produce.
FareShare redistributes surplus food from across the UK, including from supermarkets, manufacturers and suppliers, to those in need.
Inverclyde Council has also continued to provide free school meals during the schools shutdown and is supporting a range of other community-based support groups with the relief effort.
For the latest service updates and a wide range of help and support advice for individuals and businesses, visit www.inverclyde.gov.uk/coronavirus.