International Workers' Memorial Day (IWMD) 2020
SPECIAL tribute has been paid to those who have died in the line of duty to mark International Workers' Memorial Day (IWMD) 2020.
A short video, commissioned by Inverclyde Council, has been produced to remember people who passed away as a result of their work – and to honour those currently putting themselves at risk in the fight against coronavirus.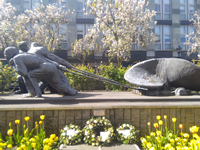 The scheduled IWDM ceremony at the 'Men of the Clyde' sculpture in Clyde Square, Greenock, today was cancelled due to the stay at home advice, but people locally and around the world will continue with a minute's silence at 11am this morning in their homes as a mark of respect.
People are also being encouraged to light a candle tonight to remember those who have fallen – and to show support to the essential workers currently out there.
Floral wreaths were placed at the statue on behalf of the council, churches and trade unions, in accordance with government safety advice.
Provost Martin Brennan said: "This year's commemorations take on added significance in light of the coronavirus global health pandemic.
"International Workers' Memorial Day is a time to remember and commemorate those who have died as part of their work.
"It's also important to recognise the dedicated workers at home and across the world who are right now standing between the most vulnerable in our community to shield and protect them from the worst of this appalling virus.
"Today we remember the dead and fight for the living."
The video montage features contributions from Provost Brennan and Unison Inverclyde branch secretary, Robin Taggart, on behalf of trade unions, alongside images of various essential workers from across the district who are maintaining vital services during the coronavirus emergency.
It is available to watch online at https://youtu.be/7-ujia4Q6_o and there is also more information about International Workers' Memorial Day here https://www.inverclyde.gov.uk/events/7348/international-workers-memorial-day-2020.