Update on brown bins and garden waste permits
THE sale of garden waste permits has resumed with brown bin collections now back to normal across Inverclyde.
The service was disrupted due to reduced staffing levels and other constraints caused by the coronavirus outbreak.
Brown garden waste bins continue to be emptied as normal on regular fortnightly collection days for those who have purchased a permit.
Bins without a permit will not be uplifted.
The sale of permits had to be temporarily suspended due to the coronavirus response but they are available to buy once again from the Inverclyde Council website.
Councillor Michael McCormick, Convener of Environment & Regeneration, said: "I'm pleased to see the normal garden waste service resuming.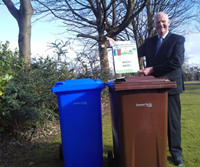 "I appreciate that the temporary suspension of purchasing permits was an inconvenience, especially during the recent spell of nice weather when many people were out giving their grass the first cut and tending to their gardens.
"However, councils across the country have had to react to the coronavirus pandemic as best they can and prioritise resources to ensure crucial services, such as general household waste uplifts, are maintained.
"It's good to see our waste collections starting to get back to the way they were. It's testament to the hard work and dedication of our environmental services staff that they have been able to restore some form of normality so quickly amid ongoing restrictions and issues caused by the public health emergency."
During the disruption to garden waste collections, brown bins of existing permit holders were still being emptied but the contents were being taken away in a general refuse lorry.
Brown bin contents will now be collected by a dedicated garden waste vehicle and recycled once again.
The council is continuing to work with its recycling contractor to reinstate fortnightly blue bin uplifts as soon as possible.
Food waste (green bin) collections will resume at a later date.
In the meantime, black/grey bins for general household waste will continue to be emptied every week until all waste collections return to normal.
To purchase a garden waste permit, visit www.inverclyde.gov.uk/recycling, where there is also a frequently asked questions (FAQs) section and further information about Inverclyde's waste and collection services.
Residents are asked to note that due to the current circumstances, it may take up to two weeks to print the personalised permit and post it customers' homes.
For advice about the brown bin service, including what to do if a permit is lost or stolen, phone 01475 714555.
To find out about local collection days and about other council services, visit the interactive My Inverclyde website at https://maps.inverclyde.gov.uk/noticeboard8/noticeboard.aspx.