Updates on blue and brown bins
RESTARTING collections of blue recycling bins is an urgent priority for Inverclyde Council following an enforced suspension of the service due to the coronavirus outbreak.
It comes as a full resumption of brown garden waste bins looks set to begin within three weeks.
Members of the Policy & Resources Executive Committee were today (Tuesday 21 April) given an update on waste collections, which have been disrupted because of the Covid-19 public health emergency.
The fortnightly blue bins service was suspended following the last uplifts on Friday 10 April due to staff shortages within the council and with its contractor, which processes recyclable materials.
Green food waste collections were also put on hold, while brown bin collections ceased for those without a garden waste permit.
To compensate for the disruption, black/grey general household waste bins have been emptied weekly instead of every two weeks.
The committee was told that council officers remain in regular contact with the recycling contractor and blue bin uplifts will be reinstated as soon as the company is able to resume collections and processing.
Meanwhile, the emptying of brown garden waste bins and the sale of permits is expected to return to normal within three weeks.
Council Leader Stephen McCabe, Convener of Policy & Resources, said: "It has been and continues to be an extremely challenging time for staff across all council services and indeed people from all walks of life.
"The decision to suspend some refuse collections, particularly the blue recycling bins, is one that was not taken lightly and was primarily in response to staff shortages caused by the Covid-19 pandemic – an issue that is not unique to Inverclyde as a council or an area.
"I'm pleased to hear that progress is being made towards reintroducing blue and brown bin uplifts as quickly and as safely as possible.
"I commend our refuse teams for maintaining such an important service and at such a high level."
Food waste collections, which were suspended on 30 March, will be kept under review and reinstated in line with social distancing guidelines when there is sufficient resources.
Councillor Michael McCormick, Convener of Environment & Regeneration, said: "Whilst we are starting to see some green shoots of recovery where waste collections are concerned, we all continue to be at the mercy of this awful virus and must stick to the stay at home and social distancing rules in order to protect ourselves, the NHS and save lives.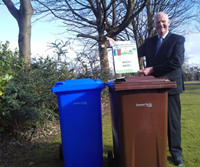 "I would like to thank our tireless and dedicated environmental services staff for the vital work they continue to do under extremely challenging circumstances."
All waste should be placed in black/grey residual bins until further notice.

Those who have garden waste permits will continue to have their brown bins collected, although the contents will be emptied into a normal residual waste truck.
Inverclyde's recycling centres at Pottery Street, Greenock, and Kirn Drive in Gourock remain closed in line with government guidance.
Neighbourhood recycling points are still available to use and bins will be emptied as frequently as possible, however, people are advised to stay at home and only go outdoors if it is absolutely necessary, during which time they should observe social distancing of at least two metres (six feet) apart from others.
For the latest Inverclyde Council service updates, visit www.inverclyde.gov.uk/coronavirus.