60-64 age group flu jabs start Monday 7 December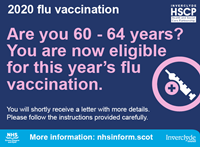 The flu vaccine programme is now being made available to anyone in the 60-64 years age group. This includes those who will turn 60 by the 31 March 2021.
Letters are on their way to people in this category explaining what to do next.
The vaccine will be made available at Greenock Town Hall over a two-week period, from Monday (7 December) until Friday 18 December.
These are drop-in sessions so there is no need to pre-book a slot.
HSCP staff will be on hand throughout each day, with some late night sessions too.
It is important that people bring their letter with them. However, if it has not arrived by Monday (7 December) and people wish to attend that day, they can do so.
People are being urged to adhere to the social-distancing guidelines in and around the town hall. If there is a queue, they are being asked to consider returning at a different time or later in the week.
Anyone in this age group who is housebound, arrangements can be made for a flu vaccine at home. Please phone 0800 767 6699 for more information.
The vaccine will be available in Greenock Town Hall during the following hours in December:
Mon 7th 9.15am – 7.30pm
Tue 8th 9.15am – 7.30pm
Wed 9th Closed
Thurs 10th 9.15am – 7.30pm
Fri 11th 9.15am – 4.30pm
Sat 12th 9.15am – 4.30pm
Mon 14th 9.15am – 7.30pm
Tue 15th 9.15am – 7.30pm
Wed 16th Closed
Thurs 17th 9.15am – 7.30pm
Fri 18th 9.15am – 4.30pm
For more information or advice, please visit www.nhsinform.scot
or phone 0800 767 6699.