Keeping children safe at Christmas
A CAMPAIGN has been launched to help keep young people across Inverclyde safe this festive season.
Inverclyde Child Protection Committee, in partnership with Child Protection Committees Scotland, are urging everyone to keep their eyes and ears open for children who may be experiencing harm over the holidays.
As restrictions ease over Christmas, residents are being asked to be alert to signs that all is not well for a child or young person.
Councillor Robert Moran, Inverclyde's convener of health and social care, said: "We've all got a part to play to protect children and young people, even at Christmas.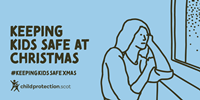 "Inverclyde has a proud reputation as a caring and compassionate place and that's been demonstrated throughout the pandemic.
"Now we must do all we can to look out for our children and young people, even at Christmas."
Coping with the pandemic has been challenging for most people but some families will have been under more strain than others.
Officials say parents who were struggling to cope before coronavirus may have been pushed to crisis point during this year and the festive season can put some households under even more pressure.
Sadly this can lead to children and young people experiencing neglect or abuse.
Councillor Natasha Murphy, Inverclyde's vice-convener of communities and young people's champion, said: "If you see or hear something that's not right, or spot unusual behaviour from a child, talk to someone about your concerns - child protection services are always available, even at Christmas.
"Don't wait if you are worried about a child, you can always get help from the council or the police.
"It's always better to say something than do nothing."
Whether it's a child who needs help, a parent who is looking for support, or an adult who is concerned about a child's wellbeing, there is always someone to talk to, even at Christmas and new year.
For more information and to access help, visit www.childprotection.scot.
To contact the out-of-hours service, including over the festive period, phone emergency social work service on 0300 343 1505.
Anyone who is very worried about a child you should call Police Scotland on 101 or 999 if a child is in immediate danger.