Pupils and Still Game stars launch Inverclyde festive film
STILL Game stars Jane McCarry and Mark Cox joined Inverclyde school pupils to launch an eagerly-anticipated festive film.
The TV duo are among the star-studded cast in 'The Magical Beacon Stone', which has been produced by the Beacon Arts Centre in partnership with Inverclyde Council.
Fellow Still Game favourite, Sanjeev Kohli, and his current River City co-star, Jimmy Chisholm, are also in the festive movie along with Lee Samuel and Kim Allan.
Provost Martin Brennan and local teachers also make cameo appearances in the 45-minute long film.
The movie was premiered in schools on Wednesday and Thursday ahead of being made available for everyone to watch for free from 10am this morning (Friday 18 December) via the Beacon website.
Provost Brennan said: "I won't be heading for Hollywood any time soon but the cast and crew have done a marvellous job bringing the director's excellent script to life and delivering some timely festive fun.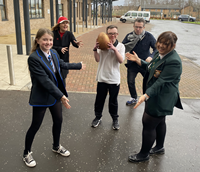 "Everyone involved in this project deserve an Oscar or a BAFTA just for how quickly they've managed to make this all happen.
"There's already been an excellent response from pupils and staff in our schools and I hope the rest of Inverclyde – and beyond – enjoy the film."
Cast members Jane, Mark, Jimmy and Lee are Beacon panto favourites and were keen to collaborate on the film to help make up for the loss of the usual festive run of shows.
Mark said: "It was good fun making the film. We all had a brilliant laugh making it.
"We've all been so badly affected by the events of this year so I was privileged to be able to get back performing."
Co-star Jane, who is currently teaching at Craigmarloch School in Port Glasgow, added: "We know how much the people of Inverclyde enjoy panto, especially the young people. The cast have a ball as well.
"Everyone is so disappointed to miss out this year so we knocked our heads together and came up with an idea for a festive film.
"I'm delighted with how it's turned out and we've had a brilliant reaction from pupils."
Craigmarloch School pupil Aiden Murray got his hands on 'The Magical Beacon Stone' to help launch the festive film alongside Holly Taylor, from Port Glasgow High, and Taylor Hurrell, who attends St Stephen's High, accompanied by Jane and Mark, pictured.
The three schools are all within Inverclyde's Port Glasgow Community Campus school building.
People can now book to watch The Magical Beacon Stone from Friday 18 December via the Beacon website.
There will be suggested viewing times and days to try and recreate as close to a real live theatre experience as possible, however, people will be able to watch the film as many times as they like until 31 December.
To book, visit www.beaconartscentre.co.uk.