Greenock residential care home among best in Scotland
Friday 28 February 2020
YOUNG people in a Greenock care home are receiving some of the best care in Scotland, according to the Care Inspectorate.
The Kylemore residential facility is one of two Inverclyde Health & Social Care Partnership (HSCP) centres to receive glowing reviews from inspectors.
It received an 'excellent' rating - the best available - for how well staff support children and young people's wellbeing following an unannounced visit by officers, who commented that the level of service being provided is 'sector leading'.
Inspectors also recently carried out a surprise audit at another Inverclyde residential centre, The View in Cardross Crescent, which was deemed 'very good' - the second highest classification.
The facility was repeatedly praised for having a 'homely' environment and staff were lauded for showing children and young people in their care 'lots of empathy, compassion and love'.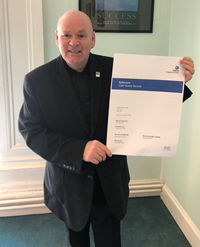 Councillor Robert Moran, Convener of Inverclyde Council's Health & Social Care Committee, said: "The staff at Kylemore and The View go above and beyond to provide a warm, caring environment for some of the most vulnerable children and young people in Inverclyde.
"They have create a genuine home which provides the unconditional support that these children and young people need to grow into confident, successful adults. It says a lot that residents who have move on from Kylemore and The View still come 'home' to visit.
"It is very encouraging that the Care Inspectorate has recognised that looked-after children and young people in Inverclyde are receiving some of the best care in Scotland."
Inspectors paid unannounced visits to Kylemore in November 2019 and it received two 'excellent' ratings.
It is a purpose-built residential facility for up to seven young people.
The Care Inspectorate report said: "The young people who live in Kylemore thrive as a result of the unique approach to care and support.
"It is commonplace for the outcomes of young people to set a new standard for care homes for children and young people in Scotland.
"During this inspection, we found the service to be working at a sector leading level."
The report also highlighted the 'immensely welcoming, warm and very compassionate environment' for young people thanks to 'astonishing' dedication by management and staff, who 'worked very hard' to create 'life-lasting new memories' for them.
The View, which can also cater for up to seven youths, was inspected in October last year and received two 'very good' ratings.
The Care Inspectorate said: "Young people and their families all agreed that the environment was 'homely', and we heard this word repeated regularly throughout our inspection."
The reports are based on evidence provided by young people, parents, staff and care professionals.
Page last updated: 28 February 2020