Record 'positive destination' figures for local school leavers
Wednesday 26 February 2020
A RECORD number of school leavers in Inverclyde are moving into employment, education or training, according to official figures.
Statistics released by the Scottish Government have revealed that the local authority is now in the top 10 best-performing council areas in the country for 'positive destinations'.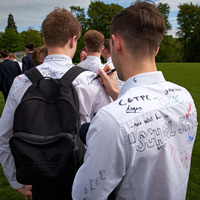 Inverclyde is eighth in the school leavers league table – up a massive 18 places year-on-year - with 95.8 per cent of pupils securing a job, training or a place at university or college.
There are also no 'unknowns' – students whose destinations are unaccounted for when they leave school – for the tenth consecutive year.
Councillor Jim Clocherty, Inverclyde Council's Convener of Education & Communities, said: "This is a remarkable achievement for our schools.
"We already have some of the best teaching facilities in the country thanks to the council's unprecedented £270 million investment in the schools estate and these figures illustrate that it is money well spent.
"To be in the top 10 in the country for positive destinations for school leavers is testament to the incredible work being done in our schools by our teaching staff and, of course, our talented young people."
Inverclyde is 0.8 per cent above the Scottish average of 95 per cent for pupils moving into positive destinations - a new record best for the area.
The council has jumped from number 26 in the positive destinations table in 2017/18 to the eighth position in 2018/19.

There were 694 school leavers locally during 2018/19.
Inverclyde was joint-eighth in the league table with East Lothian, which also had a rate of 95.8 per cent.

Page last updated: 26 February 2020