Deprivation figures show need for core investment
Tuesday 28 January 2020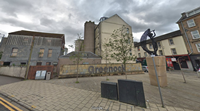 Inverclyde Council's depute leader has called on Scottish civic and political leaders to bring an end to the austerity and cuts agenda.
The move comes as Scottish Index of Multiple Deprivation (SIMD) figures show part of Greenock town centre as the 'most deprived' in Scotland.
According to statistics revealed by the Scottish Government report released today (Tuesday 28 January 2020) Greenock Town Centre remains the most deprived datazone in Inverclyde but the ranking of the datazone has declined from 23 to 1 across Scotland.
Inverclyde Council's depute leader, Councillor Jim Clocherty, said: "These figures are a bitter pill to swallow and show that investment can't come soon enough. No part of Scotland wants to be labelled as the 'most deprived'. I know our colleagues in Renfrewshire have been battling against the unwanted label these figures have thrown at the Ferguslie Park area for many years.
"The simple truth is that investment in communities is investment in people and a cuts agenda in recent years has unequally affected the core funding for local government in Scotland.
"In Inverclyde, we invest in our town centres, we invest in mitigating the effect of the welfare reform, we have invested heavily in our schools, in free school meals, in fighting holiday hunger and school clothing grants all geared towards supporting our communities. These investments though are all set against a backdrop of ongoing and continuous cuts to services.
"Just last year the Scottish Parliament's own report revealed that in Inverclyde our funding from Government has been reduced by £104 for each and every person. That is money not being made available to invest in health, jobs, town centres, schools and other services our communities rely on.
Councillor Clocherty, who also chairs the Greenock regeneration forum highlighted the areas of investment in the area described as the 'most deprived' in Scotland.
He said: "Town centres across the UK are under threat and in recent years we have prioritised investment in our town centres, particularly the major towns of Gourock, Port Glasgow and Greenock.
"Greenock town centre has been earmarked for a £3m investment; right in the heart of this 'datazone' for the redevelopment of its main shopping area at West Blackhall Street to boost the town centre and encourage more visitors. Within this datazone we have also secured investment to develop a new cruise visitor centre as part of the Glasgow city deal which is set to open in 2021 as a key element of Scotland's tourism offer welcoming potentially 150,000 plus visitors to Scotland.
"All of this investment is being delivered for all of the right reasons against a background where core local government essential services continue to be under threat.
"In Inverclyde we will continue to invest where we can whether it is in town centre infrastructure as we have in place for Greenock Town Centre or in our schools in recent years as local areas of priority. These statistics need to be a wake-up call to Scottish civic and political leaders to bring an end to the austerity and cuts agenda once and for all. It is time that core local government essential services were invested in to allow local councils real freedom to focus on the areas that needs help instead of spending most of our time trying to find the next part of the service to cut."
Page last updated: 28 January 2020