MasterChef takes over Home Economics class in St Columba's HS, Gourock
MasterChef takes over Home Economics class in Gourock High School
Gary Maclean, winner of the BBC's MasterChef: The Professionals Champion 2016, cooked up a storm at St Columba's High School in Gourock this week.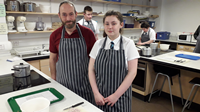 Gary was there to toast the success of the Cook School project which aims to: help pupils learn important new life skills, develop a taste for nutritious food and avoid diet related diseases like Type 2 diabetes, heart disease and some cancers.
Gary said, "I am thrilled to support and celebrate the achievements of St Columba's High School, having young people engage positively with food is so beneficial in so many ways. I am hoping to inspire and also to have a bit of fun with food and the pupils while I'm there."
Councillor Jim Clocherty, Convener of Inverclyde Council's Education & Communities Committee said, "When it comes to a child's education, getting parents involved is one of the most important ingredients in the recipe for success. Last month pupils prepared a three course meal for their parents to showcase their new skills over the Christmas holidays.
"Cook School helps to get some of our harder to reach parents more involved with their children's education. It also encourages children to read, understand and cook recipes with their parents. It means they take ownership for their dietary choices with the support of their parents as well."
The Cook School project was devised by Lynsey Mitchell, a newly qualified Home Economics teacher working at St Columba's High School. Lynsey said, "I started the Cook School project as a way to help pupils develop their life skills and nutritional knowledge. Evidence also shows that children perform better in school when their parents are involved with what they are learning and that's exactly what Cook School does - get parents more involved. The project also helps families to develop a healthy relationship with food by cooking together."
Gary worked alongside these pupils and their parents to explore nutritional and cost effective recipes which support a healthy diet.
In November 2017 the Scottish Government appointed Gary as Scotland's first National Chef. The role includes promoting Scottish produce on the world stage and encouraging the people to eat healthy, locally produced food.
The Cook School project originally started with three pupils but by the end of the seven week block, nine pupils cooked for their parents at the school's Christmas dinner event.