£200k playparks upgrade to boost inclusivity
Saturday 18 July 2020
PLAYPARKS in Inverclyde are set for a £200,000 upgrade to make them more accessible for children of all abilities.
Fifteen sites across the district will have wheelchair-friendly roundabouts and play ramps installed to improve inclusivity for local children.
Inverclyde Council has already spent over £100k on the equipment.
Designs are now being finalised before the contract to install the apparatus and carry out other minor upgrades is put out to tender.
It is hoped the work, expected to cost a further £100k, will start in the autumn.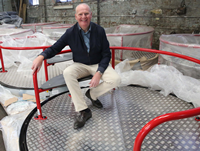 Councillor Michael McCormick, Inverclyde Council's Convener of Environment & Regeneration, said: "This is a fantastic investment by the council to make almost a third of our playparks more inclusive for children and young people with mobility issues, particularly those who use wheelchairs.
"The equipment will help break down barriers for our young people and make playing with their friends at their local park more inclusive.
"This is also one of the first big council projects to resume since lockdown in March and comes after the recent reopening of playparks following the easing of government restrictions.
"It's uplifting to see a return to some form of normality with such a positive project like this after a very difficult few months and with many challenges still to come."
There will be 10 accessible roundabouts and five inclusive play ramps installed.
Locations are still being finalised.
The installation of equipment will be unique to each location and could include removing or extending fencing, alterations and improvements to existing surfaces, and suitable access paths.
Page last updated: 17 July 2020