Achi Baba 105th anniversary
Saturday 11 July 2020
A FIRST World War conflict which claimed the lives of 300 Inverclyde soldiers has been marked today. (Saturday 11 July)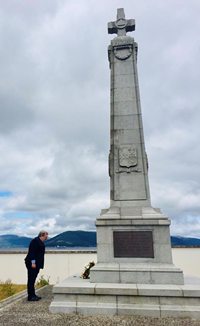 A wreath was laid by Depute Provost Ronnie Ahlfeld at the Gourock Cenotaph, on behalf of Inverclyde Council, at 11am this morning to honour those who lost their lives during the battle of Achi Baba in Turkey 105 years ago.
Most of the local soldiers who were killed in 1915 were from the town.
The Achi Baba Remembrance itself is on Sunday 12 July but a memorial service usually takes place on the Saturday nearest to that date.
Due to coronavirus restrictions, the commemorations have had to be scaled back this year.
Depute Provost Ahlfeld said: "We must never forget the bravery of the local men and women who have paid the ultimate sacrifice to protect our country.
"Achi Baba in particular had a major impact on Gourock with around 300 Argyll and Sutherland Highlanders from the town among the 4,000 soldiers who fell on 12 July 1915.
"So many young men lost their lives and it's important we honour them, their families and remember the sacrifice they made."
The Allied casualty figure at the 1915 battle totalled 4,000 dead or wounded with some 10,000 lives lost on the Turkish side in the fight to capture Achi Baba, a prominent hill feature overlooking the Allied beachhead at Cape Helles, on the Gallipoli Peninsula.
Page last updated: 11 July 2020