Council public protection team honoured by police
Tuesday 7 July 2020
FRONTLINE Inverclyde Council staff have received a special commendation from Police Scotland for helping to tackle crime and keep residents safe.
The local authority's public protection team, which includes community wardens, anti-social behaviour officers, trading standards and environmental health, have been awarded the Divisional Commander's Award for Partnership Working.
The honour, from Chief Superintendent Alan Murray, who is in charge of the Renfrewshire and Inverclyde division of Police Scotland, recognises the 'instrumental' role the team play working alongside officers to protect and improve the area.
Public protection staff are also involved in things like strategic housing, CCTV, parking enforcement and licensing standards.
Ch Supt Murray said: "This team are instrumental in providing high levels of co-operation and partnership working to identify, target and resolve matters affecting communities in the Inverclyde area."
An awards ceremony would have normally taken place at the Beacon Arts Centre but it had to be cancelled due to the coronavirus outbreak.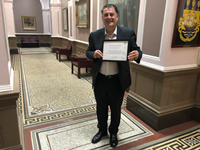 Councillor Stephen McCabe, Leader of Inverclyde Council, who accepted the honour on behalf of the team, said: "Congratulations to our public protection team for this well-deserved recognition.
"They carry out a wide range of important work in our communities and work closely with the police and other partner agencies, often going above and beyond the call of duty to ensure our neighbourhoods, town centres and rural areas are safe.
"We've read many stories over the years and just recently about some of their heroic work and I'm delighted for the whole team that they have been recognised by Police Scotland."
Last month, two community wardens were hailed for helping to evacuate a man and his neighbours from a burning building in Port Glasgow town centre while on their lunch break.
Chief Inspector Debbie Reilly, Inverclyde area commander, who put the public protection team forward for the award, says they have also played key roles in everything from thwarting thieves and rumbling rogue traders to addressing anti-social behaviour and laying down licensing law.
Ch Insp Reilly said: "Protecting the public is ultimately down to the police but it cannot be done without the help of others as well.
"The way the council team go about their business is really commendable and it's only right we recognise it – from members of the staff out dealing with the public to those behind the scenes making important management decisions.
"The partnership between us is really strong. We all work together with the same priority – to keep the public safe – and we understand what each other does and complement each other.
"It was only right and proper that I put them forward for this award and I'm delighted the commander agreed."
Page last updated: 7 July 2020