Going blue for the NHS
Friday 3 July 2020
INVERCLYDE Council is going blue this weekend in honour of the NHS and its staff.
Commemorations are taking place across the country to pay tribute to the health service, particularly in responding to the coronavirus pandemic, to coincide with the 72nd anniversary of its foundation on 5 July 1948.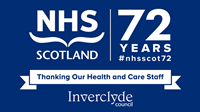 To mark the occasion, Inverclyde Council's corporate logos will turn from green to blue on social media over the weekend.
This year is also the 72nd anniversary of social care services.
Tomorrow (Saturday 4 July), national landmarks will be lit up blue and people are being encouraged to get involved by putting a light, such as a candle, lamp or torch, in their window or on their doorstep.
On Sunday, BBC and ITV will go dark at 5pm to mark the anniversary and in remembrance and to coincide with a final clap for carers and key workers at the same time.
Councillor Robert Moran, Inverclyde Council's Convener of Health & Social Care, said: "The appreciation and respect for the NHS and staff right across the sector has never been greater following the events of the last three months.
"It's only right that we acknowledge the bravery and commitment of all our wonderful health and social care staff in the past, present and future.
"Turning the council logo from green to blue is a small but symbolic gesture of thanks and to raise awareness of the events taking place this weekend.
"It is a time for celebrating the NHS but also remembering those who have died – patients and staff – particularly during this coronavirus pandemic.
"I encourage people across Inverclyde to join with us in showing a small token of their appreciation for the NHS and health and social care workers."
Residents can also get involved in the celebrations on social media by using the hashtag #NHSScot72.
While the birth of the health service is regarded as being on 5 July 1948 when then health minister Nye Bevan nationalised the existing systems in the UK, the NHS in Scotland had its own strong and distinctive roots well before then with the Highlands and Islands Medical Service (HIMS) which was set up in 1913.
To find out more about the history of NHS Scotland and events taking place this weekend to mark the anniversary, visit www.ournhsscotland.com/history.
Page last updated: 3 July 2020