Greenock Watt Institution reopened
Wednesday 15 July 2020
GREENOCK'S Watt Institution has reopened to the public.
The facility, which incorporates the McLean Museum and Art Gallery, can start welcoming visitors again from today following the easing of more coronavirus lockdown restrictions.
The Watt Institution will be open from Wednesday-Friday each week from 11am to 2pm until further notice.
It has been closed since March due to the Covid-19 outbreak.
The McLean Museum and Art Gallery and Watt Hall are accessible once again but the Watt Library – a research library – will remain closed due to staffing levels and to limit the number of people on site and time spent in the facility, in line with government guidelines.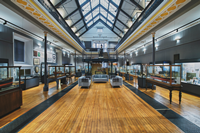 The Watt Institution reopened in October last year following a £2.1 million makeover by Inverclyde Council, which is in charge of the facility.
Councillor Jim Clocherty, Convener of Education & Communities, said: "We were only just starting to enjoy the Watt Institution once again following the completion of an extensive refurbishment before the doors had to be closed in response to the coronavirus pandemic.
"I'm glad that this magnificent building and its array of amazing artwork and artefacts is back open for the people of Inverclyde and beyond to take advantage of once more.
"With the hospitality and tourism sectors in Scotland also reopening today and with so much uncertainty surrounding overseas travel, now is the time to appreciate and support what we have on our doorsteps.
"A visit to the newly-refurbished Watt Institution followed by a coffee or lunch at one of our many great Inverclyde cafes and restaurants would be a lovely family day out and, in turn, would help the local economy to get back on its feet after weeks and months of hardship."
Also reopening to members of the public today are Greenock Central Library and the libraries in Port Glasgow and Gourock town centres.
They will be open Monday-Friday from 11am-2pm for 'Connect and Collect' – books ordered online or over the phone for collection in-person – and computer use.
Browsing the shelves is not currently permitted.
Perspex screens have been installed at the Watt Institution and the three local libraries for the safety of visitors and staff, there are hand sanitiser stations, people should wear masks if possible and two-metre social-distancing must be maintained.
Safety videos are available on the Inverclyde Libraries and Watt Institution social media channels to demonstrate the changes and new safety measures before people visit.
For more information about the Inverclyde Council libraries service, including how to access 'Connect and Collect' and 'Books on Wheels' deliveries, visit https://www.inverclyde.gov.uk/community-life-and-leisure/inverclyde-libraries.
Page last updated: 15 July 2020