Half-price eating out scheme - sign up now
Tuesday 21 July 2020
RESTAURANTS, pubs and cafes in Inverclyde are being encouraged to sign up to a 50 per cent discount scheme designed to boost the hospitality sector.
Businesses can now register for the UK Government's midweek 'Eat Out to Help Out' initiative next month.
The scheme will allow the hospitality trade to offer diners 50 per cent off their bill, up to a maximum of £10 per person, for food and soft drinks all day every Monday, Tuesday and Wednesday throughout August and claim the money back.
The government will aim to settle eligible claims within five working days.
The scheme is designed to encourage people to start eating out again and help get the hospitality industry back on its feet following months of lockdown.
Councillor Michael McCormick, Inverclyde Council's Convener of Environment & Regeneration, said: "We have an abundance of excellent restaurants, cafes and pubs in our towns and villages and any support to help boost trade is very welcome.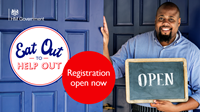 "Many people will feel, understandably so, anxious about getting back to some form of normality after so long stuck at home so this is also a good incentive for residents to venture back out to their favourite place for a meal or try somewhere new.
"The past 17 weeks have been incredibly tough and there are still many difficulties to overcome but we can now start to enjoy the simple pleasures in life that we once took for granted, like going out for lunch or a meal with family and friends.
"The hospitality industry has worked incredibly hard to implement measures to ensure premises can reopen safely for staff and customers and I'd urge people to do their bit by following rules that apply to them, such as social-distancing, good hand hygiene and providing contact details for the government's track and trace programme to help with the continued suppression of Covid-19 in our community."
The key features of the scheme are:
all day, every Monday, Tuesday and Wednesday from 3 to 31 August 2020
to offer a 50 per cent discount, up to a maximum of £10 per person, to diners for food or non-alcoholic drinks to eat or drink in
businesses can claim the money back from the government
There is no limit to the number of times customers can use the offer during the period of the scheme. Customers cannot get a discount for someone who is not eating or drinking.
Alcohol and service charges are excluded from the offer.
Registration will close on 31 August.
For more information, full eligibility criteria and to sign up, visit www.gov.uk/government/collections/eat-out-to-help-out-scheme.
Page last updated: 21 July 2020