Tribute to outgoing Inverclyde fire chief
Tuesday 14 July 2020
TRIBUTE has been paid to Inverclyde's most senior firefighter who is leaving for pastures new.
Councillor Tommy McVey, Chair of the council's Local Police & Fire Scrutiny Committee, has thanked outgoing local senior officer (LSO) Graeme Binning for his service to the area.
Mr Binning, the area commander for the East Renfrewshire, Renfrewshire and Inverclyde division is moving to another post within the Scottish Fire & Rescue Service.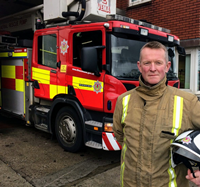 He will be replaced as LSO by James McNeil.
Councillor McVey said: "I'd like to place on record my thanks to Graeme for the dedication and hard work he has put into Inverclyde over last few years.
"He is the consummate professional whose drive and determination, to ensure the safety the people of Inverclyde, is there for all to see.
"Scrutiny committee can sometimes be contentious and it is true that we did disagree on occasions. That said, Graeme was always approachable and always willing to listen. Any debates or discussions we had were always conducted in a respectful and professional manner.
"I wish him all the very best in his new role and he will always be welcome in Inverclyde. I also look forward to working with his successor James McNeil."
The role of LSO is statutory and the post holder works closely with Inverclyde Council to develop a fire strategy, provide regular service updates and engage with the community.
Page last updated: 14 July 2020