Blue bins are back
BLUE recycling bin collections will resume across Inverclyde in under two weeks' time and residents are being asked to be prepared.
The service will restart on Monday 15 June after the council struck a deal with its existing contractor to allow a temporary company to take over the reins for three months.
Fortnightly kerbside blue bin collections were suspended on 30 March, primarily because of staff shortages caused by the coronavirus pandemic.
The council does not have the means to store and process dry recyclables so that element of the service is outsourced.
While local authority staffing levels have since returned to a level that will allow household uplifts to resume, the current contractor is still experiencing problems meaning the waste cannot be collected and sorted.
Council officials have now reached an agreement that will allow another company to take over until September.
Blue bin uplifts will restart on 15 June for some residents and 22 June for others, depending on the recycling rota, and people can visit www.inverclyde.gov.uk/myinverclyde to find out their collection days.
Councillor Michael McCormick, Convener of Environment & Regeneration, said: "Like a lot of people across Inverclyde, the temporary suspension of blue bin collections has been extremely frustrating for me and my family.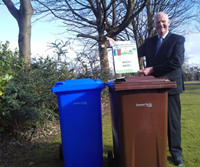 "It's been a disappointing situation for council staff too, who take no pleasure in having to reduce services.
"However, we live in unprecedented times and the decision to pause household recycling collections was not done through choice but necessity.
"But I'm pleased that from 15 June blue bins will resume, completing a return to full service for household collections following the recent restart of dedicated garden and food waste uplifts.
"That coupled with the reopening of Pottery Street recycling centre on Monday and the Kirn Drive depot to follow suit, also on 15 June, it's great to see some form of normality returning.
"My thanks to the council's waste and recycling and refuse teams for their efforts during these challenging times and especially to residents for their patience and understanding as staff worked – and continue to work – tirelessly to deliver vital frontline services."
The return of blue bins means the weekly uplift of black/grey general household waste bins will revert to an alternating fortnightly collection as normal.
The frequency of black/grey bin uplifts was increased to once a week to make up for the temporary suspensions of dedicated blue, brown and green bins for recyclable, garden and food waste, respectively.
Ahead of the blue bins restart, residents are being asked to familiarise themselves with what can and cannot be placed in them.
Items such as paper, cardboard, tins and certain types of plastics can be recycled and must be washed before being placed in blue bins.
Things like crisp packets, plastic bags, polystyrene and cellophane cannot be reused and should be disposed of with other general household waste.
People are also being urged not to put textiles such as clothes, duvets, pillows, shoes or glass in their blue bins.
Any excess waste left at the side of bins will not be lifted.
For more information about waste and recycling services in Inverclyde, visit www.inverclyde.gov.uk/recycling.
To find out about collection days, what bins should go out and about other council services, visit the interactive My Inverclyde website at www.inverclyde.gov.uk/myinverclyde.