Enhanced free school meals provision over summer
ENHANCED free school meals provision for Inverclyde school children has been agreed by the council.
Eligible pupils will continue to be supported over the summer and up until 28 August, which is more than the requirements set out by the Scottish Government.
The council's emergency sub-committee agreed on Tuesday to support families during the holidays and acknowledged the work of COSLA negotiating on behalf of local authorities for additional national funding.
Earlier in the day, the Scottish Government announced it is providing an extra £12.6 million nationally to extend free school meals across Scotland.
Inverclyde Council is going a step further and will continue supporting families through until 28 August.
Pupils are due back in school from 12 August.
Council leader, Councillor Stephen McCabe, said: "Given the ongoing uncertainty over the coronavirus pandemic and the direct impact of each recovery phase on families, it is important that we continue to support parents and young people where we can.
"We have already provided families with support during the pandemic. Initially this was by making free school meals packs available and now providing over 3,600 free school meals either through direct £25 fortnightly payments or direct food parcels.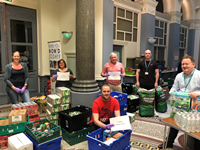 "The aim is to help families during these difficult times and we're going one step further by not only supporting parents over the summer until the schools go back but right through until the end of the August to help minimise the impact on households."
During lockdown, the local authority has spent over £1/2m supporting pupils, families and vulnerable people with food.
Free school meals provision over the summer until the end of August is expected to cost in the region of £350,000.
It is anticipated that the council will receive approximately £230k from the Scottish Government towards this, although Inverclyde's share of the £12.6m funding has yet to be confirmed.
Details about clothing grants and free school meals provision for the new 2020/21 term will be made available in due course.
Any parents with questions or who have experienced a change in circumstances can email admin.educationhq@inverclyde.gov.uk.