Huge demand for Inverclyde recycling centre
ALMOST 3,000 cars visited Inverclyde's main recycling centre in the first three days dumping nearly 90 tonnes of rubbish.
There has been unprecedented demand for access to the Pottery Street site in Greenock after it was closed for 10 weeks due to the coronavirus lockdown restrictions.
The centre reopened on Monday and the number of visitors has increased each day, peaking at just under 1,200 vehicles through the gates on Thursday alone with 33 tonnes of waste.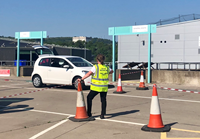 It is expected to be even busier this weekend and people are being asked to hold onto their waste a little while longer if they can to avoid queues to get in.
Household waste, garden waste, wood and cardboard only is being accepted at the site for now.
Councillor Michael McCormick, Inverclyde Council's Convener of Environment & Regeneration, said: "People have been incredibly patient waiting to get into Pottery Street and I thank them for that.
"They have also been very understanding of the situation and supportive towards staff, who have been a real credit to the council.
"In order to keep queues and waiting times to a minimum, I would ask people to hang onto their waste for a bit longer if they can and only visit Pottery Street if it is essential.
"As a council, everyone is working as hard as they can to meet demand and get things back to normal."
On Monday, there were 685 vehicles and 28 tonnes of waste through the gates of Pottery Street followed by 847 visitors and 25 tonnes on Tuesday.
There is a restriction on the number of cars allowed in at any given time and people are being urged to maintain social distancing of at least two metres apart when outside their vehicle.
The Pottery Street centre is open from 8am-7pm every day except a Wednesday when the site is closed.
Staff may have to ask people to stop queuing to get in at the end of the day if the waiting time exceeds the closing time.
Commercial vehicles will not be permitted entry at weekends, although this is being reviewed regularly.
Staff are on hand to assist – from a safe distance – but cannot help with carrying waste.
Residents are being reminded that Kirn Drive recycling centre in Gourock will reopen on 15 June.
The uplift of blue recycling bins will also resume from 15 June.
For more information about waste and recycling, visit www.inverclyde.gov.uk/recycling.