Recycling centre visitors waste no time
ONE vehicle every minute visited Inverclyde's main recycling centre after it reopened for the first time in nearly 10 weeks.
Almost 700 cars and vans passed through the gates of the Pottery Street depot in Greenock on Monday with residents dumping close to 30 tonnes of waste.
It was back up and running for the first time in 10 weeks following the initial easing of government lockdown restrictions which allowed operations to resume.
A total of 685 vehicles visited the recycling centre – just over one every minute – and more than 28 tonnes of household waste, garden waste, wood and cardboard was dumped on day one alone.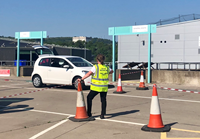 Residents were eager to discard of rubbish built up over the last 10 weeks following clear-outs of cupboards, lofts, sheds and tidying up of many an outdoor space.
There was everything from unwanted wooden furniture and hedge trimmings to a bust of Egyptian pharaoh Tutankhamun and even a kitchen sink.
Councillor Michael McCormick, Convener of Environment & Regeneration, said: "As expected, it was extremely busy at Pottery Street to begin with on Monday but people were incredibly patient and understanding as they waited to get in and I'd like to thank them for that.

"Also, huge credit to the council staff involved. It's a big job reopening Inverclyde's largest recycling centre after being closed for more than two months and a lot of hard work has gone in to ensure everyone's safety.
"Those on the frontline at Pottery Street in particular did a terrific job directing traffic and helping people at a distance on what was one of the hottest days of the year."
As was the picture across the country, there were lengthy queues to begin with and waits of up to two hours to gain entry to the Greenock depot but that reduced significantly by lunchtime.
In the afternoon, the waiting time was down to under 10 minutes with the early backlog of traffic completely cleared from the A8 East Hamilton Street and Pottery Street itself.
The depot was due to open at 8am but staff unlocked the gates 15 minutes early to ease the build-up of traffic on the main road and the site closed at 7pm.
Motorists were kept informed throughout the day with 'real time' queue updates displayed on electronic boards dotted along the A8 in both directions on approach to Pottery Street.
The recycling centre will now be closed on Wednesday to give staff a break after a busy couple of days.
It will reopen on Thursday at 8am and will also be open throughout the weekend from 8am-7pm.
Commercial vehicles will not be permitted entry on Saturdays and Sundays and should only use the site during the week.
People are reminded that Pottery Street is for household, garden, wood and cardboard waste only at the present time and no trailers are allowed.
The council's kerbside bulk uplift service also resumed on Monday.
Kirn Drive recycling centre in Gourock is due to reopen on 15 June.
For more information about waste and recycling and the new rules in operation at Pottery Street, visit www.inverclyde.gov.uk/recycling.