School visits for new starts
SCHOOLS across Inverclyde have welcomed pupils for a first look of their new surroundings ahead of the start of term in August.
With usual induction programmes at this time of year cancelled due to the coronavirus pandemic, staff at local primaries and secondaries have this week been hosting transition visits for their soon to be P1 and S1 students, including at St Ninian's Primary in Gourock, pictured.
Current nursery and P7 children were given tours of the schools they will be attending in August to familiarise themselves with their new surroundings and meet some of their teachers.
Among those visiting St Ninian's on Thursday were youngsters from Binnie Street, Inverkip and Wellpark early learning centres.
The new P1s, accompanied by their parents, were kept in very small groups in order to adhere to the government's two-metre physical distancing rule.
Lesley McCabe, St Ninian's head teacher, said: "We were delighted to welcome our new P1 pupils into school this week. It's a very exciting time for them and us. They have brought our school to life again with their smiling faces and laughter.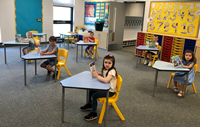 "Throughout lockdown we've been supporting the transition into primary schools by providing a virtual tour of the school. We've used our website, our new YouTube channel and social media to introduce the children to the staff, including myself, the depute head, their class teachers, support staff and even the janitor. This has been really successful and the parents have been delighted with the communication.
"Today provides the children and parents with the opportunity to come into school, see their classrooms, meet their teachers, new friends and gives parents some reassurance of the safety measures we have put in place when the children join our school community in August."
Education staff across the district have been adapting to the pandemic restrictions in various different ways to accommodate new and existing students during the schools shutdown.
Pupils will return to class on a part-time, rota basis on 12 August in line with government rules.
Councillor Jim Clocherty, Inverclyde Council's Convener of Education & Communities, said: "Our education staff have worked incredibly hard to ensure new starts continue to receive a warm welcome to their new school despite the lockdown restrictions.
"Schools across Inverclyde have been thinking outside the box and created virtual tours and staff welcome videos for pupils and their families to access online.
"But nothing compares to seeing your new school in the flesh and I'm delighted they have been able to offer this to all our young people before they make the step up to primary or secondary education."
The reopening of schools after the summer break will see a 'blended' learning approach of face-to-face teaching in class and home learning.
Primary pupils will attend two days a week and secondary pupils for five days over a two-week period.
Teachers will return on 11 August for an in-service day.
Councillors this week agreed a £1/2 million technology package, including the purchase of an additional 250 laptops, to support children and families with learning at home.
The transition visits were arranged before the end of the current term on Friday 26 June.
More information about the reopening of Inverclyde schools for the 2020/21 session is available at www.inverclyde.gov.uk/coronavirus.