Timely success for Gourock clock makers at national awards
CLOCK-making Gourock secondary school students are enjoying some timely success after scooping two honours at a national business competition.
Pupils from St Columba's High struck it lucky at the online Young Enterprise Scotland Awards 2020 on Tuesday night by winning the 'Digital Presence' and 'Best Presentation' prizes for their successful Hour Craft Clocks venture.
The team create quirky timepieces out of salvaged materials like biscuit tins and old vinyl records.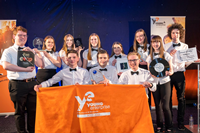 They progressed to the national finals after scooping a whopping five awards at the Renfrewshire Region competition in March, pictured, before the coronavirus outbreak.
Councillor Jim Clocherty, Convener of Education & Communities, said: "I echo the comments of the judges. The Hour Crafty Clocks team from St Columba's in Gourock have done a fantastic job.
"They deserve every success for their imagination and work ethic, which has been supported and encouraged by the fantastic staff at the school.
"The pupils now have two major national awards to add to their ever-expanding trophy collection, which is no mean feat considering the high-calibre of entries from across the country.
"Congratulations to Hour Crafty Clocks and St Columba's and I wish the team all the very best for their future endeavours."
Due to lockdown restrictions, the scheduled Scottish finale in Edinburgh was cancelled and moved online instead.
The judges commented that the company 'stood out' for creating an 'engaging, informative and creative digital presence' across a variety of platforms.
The team were also praised for doing a 'fantastic job' across the whole presentation of their company and were 'very consistent' in promoting the brand, particularly through the play on words with the company name.
Hour Crafty Clocks is made up of: managing director Callum Laing; company secretary Lucy Findlay; marketing director Robbie McGregor; sales director Sean Fischer-Keogh; finance director Calum Robertson; Sophie Leitch and Eva Turner from the finance team; Luke Parker and Hannah McLoughlin in the HR team; social media director Kara Leck; link teacher Claire Wight; and local business owner Heather McCullough, from Gourock's Pirate and Bluebelle shop, who was their business adviser.