£7.4m set aside for new community hub
Thursday 19 March 2020
People with learning disabilities and autism in Inverclyde are set to benefit from a new, £7.4m, state-of-the-art daytime activity hub.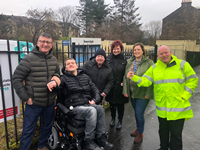 Proposals for the new community hub were included in Inverclyde Council's 2020-2021 capital budget, which councillors approved on Thursday 12 March.
The Community hub will replace the McPherson Centre in Gourock, which has already closed, and the Fitzgerald Centre in Greenock.
Councillor Robert Moran, Convener of Inverclyde Council's Health & Social Care Committee, said, "We are delivering on the promise we made to people with learning disability who use the centre and their families. It's been our long term goal to provide people with learning disabilities with a centrally-located, daytime activity hub. Now that the money has been allocated for the project we can forge ahead and make this important, new facility a reality.
"Our intention is for the hub to be housed in a community building, which can also be used by the wider community. The ethos will be to provide a space where people with additional needs and the wider community can come together in a modern, open environment which has room for everyone.
"The hub will make sure that people with a learning disability get the support they need to achieve their ambitions to be as independent as possible and to be included in their community."
Thomas Arthur, 24, is looking forward to using the new Hub. Thomas moved to Fitzgerald Centre from McPherson Centre in Gourock when the building closed in 2018. Thomas has a learning disability with complex health needs which means he needs full and constant support.
Mrs Arthur, Thomas' mother, said, "I was devastated when the McPherson Centre closed and was worried that the new Hub wouldn't happen. Now, I am over the moon that this has been given to go ahead and money invested in it, it has exceeded my expectations and I'm just on a high. Hats off to everyone who made this happen. Thomas will continue to get the support he needs but will have access to much better facilities and therapies and will get outdoor. He loves watching traffic go by so it's a great location."
The building will also accommodate the Integrated Learning Disability Team of specialist learning disability health and social Care staff, creating a new service which meets all the needs of people who have a learning disability along with day opportunities under one roof.
The new hub is intended to support people who have complex needs including autism, and to provide accessible therapeutic and personal care facilities.
Proposals for the new facility envisage a building:
With a capacity for 50-plus service users
That can be used as a drop-in base for any service user or member of the community who needs accessible personal care facilities, help with eating or specific therapies not accessible elsewhere
With a café style facility that offers a service all day and is run as either as a social enterprise by service users or is set up to offer employment training to anyone who requires a supported employment service
With a therapeutic, learning and development model to meet personal health and social outcomes for a number of people with physical and learning disabilities and/or autism
With flexible space and zoning to allow peer activities, therapies, quiet spaces and an attractive large area that can be used by community groups and day/evening adult education.
Page last updated: 19 March 2020