Litter bug hit with £80 fine
A litter bug is counting the cost of dumping their take-out trash in an Inverclyde car park after footage of their anti-social behaviour was sent to the council by a fed-up local resident.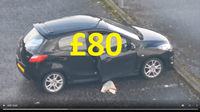 The driver, who can't be named for legal reasons, was hit with an instant £80, fixed penalty notice after council enforcement officers traced them through their number plate.
Councillor Michael McCormick, Convener of Inverclyde Council's Environment & Regeneration Committee, said, "Littering is simply unacceptable. We will always take action where we have enough evidence to show that an offence has been committed. Within hours of getting this footage council enforcement officers had issued a fixed penalty notice.
"If you have a take-out in the car there is no excuse for dumping the rubbish where you're parked. Take it home and dispose of it properly.
"Littering and fly tipping is a major problem in Inverclyde and intelligence from the public is crucial if we are going to combat it. Please contact us if you have any information, particularly video footage that helps us to catch the dumb dumpers.
"Littering isn't a victimless crime. Across Scotland clearing up litter and fly-tipping costs councils £45 million a year. A further £6.5 million is spent on enforcement. This is all money that could be better spent on facilities and services for local communities."
In Scotland, when a person is caught dropping litter they can be issued with an £80 fixed penalty notice. If the £80 is not paid, local authorities can refer the unpaid fine to the procurator fiscal, who can then impose a fine of up to £2,500.