Reading challenge launched
Friday 13 March 2020
CHILDREN across Inverclyde have started a new chapter in their learning – by signing up for a bumper reading contest.
The annual Bookbug Library Challenge is now underway at libraries across the district aimed at youngsters aged 0-5.
Between now and May 2, for every book read and returned to a local library, children will receive a stamp on a collector's card.
A special certificate will be awarded for every six stamps collected and gaining two certificates will earn an invitation to Bookbug's 'Big Birthday Party' in May.
The reading challenge launched on World Book Day and every child who signed up on the day was given a free book.
Bookbug was also on tour around local libraries, including Greenock Central Library, pictured, to celebrate the start of the challenge.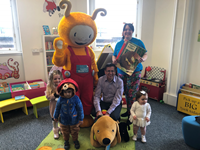 Councillor Jim Clocherty, Inverclyde Council's Convener of Education & Communities, said: "Reading is such an important part of the development of children and young people.
"The benefits are wide-ranging, from improving literacy to sparking imaginations, which encourages creativity.
"This is a fantastic initiative to encourage children, particularly very young children, to enjoy reading and reap the rewards of picking up a book."
Bookbug also visited libraries in Port Glasgow, Gourock and Kilmacolm during a mini-tour to kick-start the challenge.
It is completely free to take part and runs until Saturday May 2.
For more information about Bookbug in Inverclyde, visit www.inverclyde.gov.uk/bookbug and follow @InverclydeLibs on social media.
Page last updated: 13 March 2020