Schoolboy's poem for coronavirus 'heroes'
A SCHOOLBOY from Gourock has become an internet success after penning a poem in honour of people's generosity and selfless acts during the coronavirus crisis.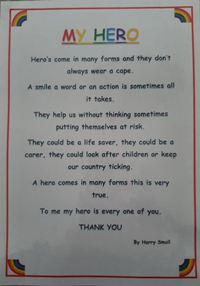 Seven-year-old Harry Small, who is in P3 at St Ninian's Primary, has put time away from the classroom to good use with his original, heart-warming verse, 'My Hero'.
It pays tribute to frontline staff in the likes of the NHS and emergency services as well as individuals who are going the extra mile to look after one another during the extremely challenging Covid-19 public health emergency.
A video of Harry reading his poem has received several hundred views, likes and comments on social media, much to the delight of his mum Michelle.
Michelle, who is an Inverclyde Early Years Officer, said: "He did it all himself. I'm very proud of him."
"Harry wrote the poem, typed it up on the laptop and laminated it. He's been learning about phonics as well, so there's been a lot of learning involved.
"The school and the teachers have been absolutely fabulous and have provided lots of varied tasks for the children.
"It's tough but everyone is trying to make the best out of a bad situation."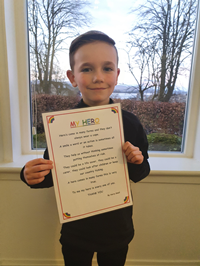 Staff in schools across Inverclyde are providing a wealth of online resources and continuing to teach via the internet to ensure pupils can continue their learning at home while educational establishments are closed because of the coronavirus shutdown.
Councillor Jim Clocherty, Inverclyde Council's Convener of Education & Communities, said: "There are so many heroes out there who are putting in a tremendous effort to maintain some form of normality during these unprecedented times and Harry's wonderful poem encapsulates that perfectly.
"It is one of the many great examples of how our bright young people are not letting the shutdown of their schools affect their learning and compassion for others.
"Pupils across the district are making light of an extremely difficult situation with the help and support of our incredible teaching staff, as well as their parents and carers.
"Like Harry, I'd like to thank all our frontline workers and volunteers who are continuing to deliver vital services during these challenging times."
Watch Harry's video here https://twitter.com/inverclyde/status/1245035623314055168
For the latest service updates, information and advice, visit www.inverclyde.gov.uk/coronavirus.