A school hug from home
Thursday 28 May 2020
PRIMARY pupils in Greenock have joined forces to give each other a great big hug – from the safety of their own homes.
Children from Aileymill Primary and Nursery who are missing school because of lockdown took part in an art and design challenge by drawing pictures of themselves with their arms outstretched.
Each image has now been put up around the perimeter of the Norfolk Road building to create a giant big group hug around the school, which remains closed in response to the coronavirus health pandemic.
Almost 140 drawings were submitted.
Catriona Miller, Aileymill head teacher, said: "We're a really nurturing school and pride ourselves on that.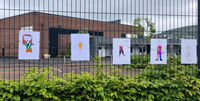 "The children are missing us and we're missing them so we decided to do this to give the school a great big hug.
"It's been really well received."
Paper packs were made available from four local shops for children to collect and create their designs at home before handing their completed artwork back into the respective stores.
The colourful drawings, featuring pupils' names and classes, were then picked up by staff, who laminated them and used tie wraps to put them up on the school fence for all to see.
Councillor Jim Clocherty, Convener of Education & Communities, said: "It has been and continues to be tough for all of us being separated from friends, family and colleagues and it's particularly difficult for children to be away from their teachers and friends at school.
"This is an imaginative way for staff and pupils to continue to stay connected and for the young people to show their creativity through art and design.
"It's uplifting to see the Aileymill community uniting in this way and adding a welcome splash of colour in the current climate.
"I would like to congratulate education staff, pupils and parents right across Inverclyde who have done an incredible job in reacting and adapting to the lockdown restrictions."
The 'hug' challenge is one of many initiatives from school staff to keep in touch with pupils and their families during lockdown and ensure learning continues while classrooms are shut.
Aileymill staff have also been producing a weekly video looking back on the week just passed and to the week ahead.
Page last updated: 28 May 2020