Final preparations for recycling centre reopening
Friday 29 May 2020
PREPARATIONS are being finalised ahead of the reopening of Inverclyde's largest recycling centre on Monday.
Local authorities have now been given the green light by the Scottish Government to resume operations at civic amenity sites, including the Pottery Street facility in Greenock from next week.
The council's bulk uplifts service will also restart on Monday (1 June).
While the Pottery Street recycling facility will be back up and running, people are being advised that there will be strict new rules and restrictions in place for the safety of residents and council employees and to expect delays due to high demand.
Following consultation with Transport Scotland, Scotland TranServ and Police Scotland, the traffic flow of vehicles will be monitored on the A8 and measures put in place if required.
There will be road signs advising of access and exit arrangements and live queuing times to get into the recycling centre, which will be open initially for household waste, garden waste, wood and cardboard only.
Staff will also be on hand – at a safe distance – to help and there is a map and further information on the council website, www.inverclyde.gov.uk/recycling.
Councillor Michael McCormick, Inverclyde Council's Convener of Environment & Regeneration, said: "With the facility having been closed for 10 weeks as per government guidelines due to the coronavirus outbreak, there will naturally be a build-up of waste with so many people having had to stay at home.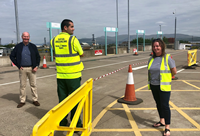 "We appreciate residents will be eager to finally get rid of excess waste but we urge people not to flock to Pottery Street all at once, particularly in the first few days to a week of the reopening.
"Nobody likes waiting in a queue and we want to avoid clogging up the A8 and overwhelming staff and the facility itself.
"There will be 'real time' updates and staff will be on hand to provide assistance, although they will not be able to help empty vehicles due to physical distancing rules.
"I would like to thank people in advance for their patience and understanding and also to express my gratitude to the council's waste and recycling team for working so hard to get Pottery Street reopened in a safe and responsible manner."
The Greenock recycling centre will be open from 8am-7pm each day, except on a Wednesday when it will be closed.
Commercial vehicles will be permitted entry during the week but not at weekends, although this will be reviewed on an ongoing basis.
The first few days are expected to be extremely busy so people are being encouraged to visit the Pottery Street centre only if it is absolutely necessary during week one to avoid lengthy queues.
The site may have to be temporarily closed if capacity is reached and this will be displayed on the live update boards should it occur.
Only three vehicles at a time will be allowed inside the recycling centre, with three waiting outside ready to go in.
No more than two adults will be allowed to unload a vehicle and any children should remain inside at all times.
People will be expected to observe government physical distancing rules of at least two metres apart from those outwith their own household and maintain good hand hygiene.
In light of that, council staff will be unable to help with carrying waste.
Those visiting Pottery Street are asked to sort their waste before travelling and squash it down, particularly cardboard, to help save space.
Neighbourhood recycling points remain open for glass, as well as other dry recyclables.
The Kirn Drive depot is expected to reopen on 15 June and plans are being progressed to resume blue bin collections as soon as possible.
To find out more about Pottery Street opening times, health and safety rules and waste and recycling in Inverclyde, visit www.inverclyde.gov.uk/recycling or call 01475 715901.
Page last updated: 29 May 2020