Lockdown easing - please stick to the rules
Friday 29 May 2020
PEOPLE in Inverclyde are being urged to maintain social distancing after Scotland entered the first stage of easing lockdown.
Residents can now go outside more often, including to sit in the park or have a picnic, and resume non-contact outdoor activities such as golf and tennis.
One of the biggest changes is being able to meet up with people from one other household at a time, up to a maximum of eight individuals, for the first time in 10 weeks since lockdown began.
But physical distancing of at least two metres apart from each other must be maintained to help to supress the spread of Covid-19 and avoid another spike of the deadly virus.
While some lockdown restrictions have been lifted, the government advice is still to stay at home as much as possible.
Councillor Stephen McCabe, Leader of Inverclyde Council, said: "It will be a welcome relief for so many of us to be able to see family and friends for the first time in over two months and for people to be able to enjoy the great outdoors once again, enjoy a round of golf or play a game of tennis.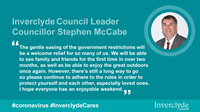 "It's a fortunate coincidence that we're being treated to such glorious weather in which to enjoy the gentle easing of the government restrictions.
"It's been a long, hard road during lockdown and we've endured so much pain and suffering, particularly here in Inverclyde.
"There's still a long way to go and nobody wants to see another spike of the virus so staying at home and maintaining physical distancing is crucial in continuing to suppress the spread of Covid-19.
"Please continue to adhere to the rules in order to protect yourself and each other, especially loved ones.
"I hope everyone has an enjoyable weekend."
Alison Evison, President of the Convention of Scottish Local Authorities (Cosla), has also encouraged members of the public to remain vigilant and maintain social distancing after the first phase of the route map out of lockdown began on Friday.
Councillor Evison said: "With exceptional weather forecast for many parts of Scotland I would ask that people continue to do their bit to help keep everyone safe.
"We all have a duty over this weekend to respect - and not undo - the heroic efforts of the Local Government Workforce, who have done a wonderful job in delivering essential services at this time.
"Our workforce has also been instrumental in helping to keep people safe during this pandemic and it is vital that we avoid jeopardising the good work they have been doing and the progress that has been made."
Page last updated: 29 May 2020