Over 150 internet-enabled laptops for Inverclyde pupils
A NEW joint-initiative has been launched to provide over 150 laptops with internet connection to Inverclyde school pupils to help with their studies during lockdown.
The council, Inverclyde Health & Social Care Partnership (HSCP) and Belville Community Garden Trust are working together to get computers to young people who do not have access to a device and who have been offline since schools closed because of the coronavirus outbreak.
Each laptop will also be paired with a 'dongle' – a device similar to a USB pen which provides internet access.
Belville Garden has so far sourced and delivered 30 computers to schools, including Inverclyde Academy, pictured, which are being distributed among pupils who would benefit the most thanks to funding from The National Lottery Community Fund, The Wellbeing Fund and other local charitable donations.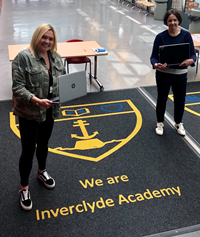 A further 37 are on order from the charitable trust and they are due for delivery in the coming days and weeks, initially to secondary students who will be preparing for exams next year.
Inverclyde HSCP has also committed £24,000 towards buying a further 90 laptops for care experienced children across the district.
Pupils, regardless of whether they have a computer and internet access or not, have been provided with resources from their schools to continue learning at home during lockdown – with staff in contact regularly with young people and their families to offer support and advice.
Councillor Jim Clocherty, Convener of Education & Communities, said: "The schools and our education staff are doing a wonderful job in ensuring learning continues at home and to a high standard during lockdown by providing a wealth of resources and support in a variety of forms.
"Not every household has access to a computer or internet so it's great to see the council's education department and the HSCP working in partnership with Belville Community Garden to source laptops to enhance our young people's learning during these challenging times.
"These computers will also be a valuable resource for these pupils when they leave school or to be passed onto fellow students to use during their studies.
"This is also one of many initiatives designed to close the attainment gap."
As well as providing laptops and internet access to young people across Inverclyde who would benefit from it, the scheme also has an environmental element to it as perfectly good machines are being saved from the scrapheap and being given a new lease of life.
The computers are pre-used but have been completely 'refurbished' to ensure they have the most up-to-date software and capabilities for pupils.
They have also been deep cleaned and sanitised.
Laura Reilly, manager of Belville Community Garden, said: "This scheme not only gives pupils additional support and helps towards closing the attainment gap locally, but is also a more sustainable way to source and utilise computers by recycling laptops.
"We work in partnership with the council and HSCP on a range of projects to support a variety of people in our communities and we're pleased to be involved in this one to help young people with their learning during lockdown."
The initiative is currently for secondary school pupils but may be extended to children in primary seven.
Susan Chambers, depute head teacher of Inverclyde Academy, said: "The families which have benefited so far are very appreciative.

"It's making it easier to make the link with pupils and it's made a massive difference to those pupils already."
It will be up to schools to decide whether pupils should return the laptops at the end of their studies to be passed onto other students – or to keep the machines to help with their onward journeys into further or higher education, training or work.