Town hall transformed into food relief centre
COUNCIL staff have helped deliver nearly 20 tonnes of emergency food supplies to vulnerable Inverclyde residents during the coronavirus lockdown.
Employees from a range of departments, as well as Inverclyde Leisure, have joined forces and transformed Greenock Town Hall into a huge sorting and distribution centre providing support to those in need right across the district.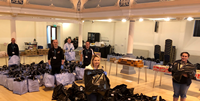 Almost 10 tonnes of goods have been used to provide 350 food bags every two weeks for the area's most vulnerable children and their families.
A further eight tonnes has been sorted and sent out to local charities and third sector organisations to support those in need throughout Inverclyde over the last six weeks in partnership with charity FareShare.
The council is also answering the call for support and advice through two dedicated helplines for high-risk residents who need access to things like food, shopping, medicine and financial advice because they have to stay at home.
The support and advice lines, run in partnership with CVS Inverclyde, are for those who are 'shielding' – 01475 715274 – and for people who are self-isolating and have to stay indoors for a variety of reasons by calling 01475 715275.
Councillor Jim Clocherty, Inverclyde Council's Convener of Education & Communities, said: "It has been a monumental effort from council staff to establish this distribution centre and ensure that it runs so efficiently.
"Having helped out with packing the free school meal food bags back in March, it really is a slick operation and that's down to the careful planning and hard work of those involved.
"It's been heart-warming to see public, private and voluntary organisations uniting to help fellow citizens in need during these extremely challenging times and thank you to everyone involved.
"People from all walks of life, through no fault of their own, have been badly affected by the coronavirus outbreak and it's important that they get all the help and support they need and that's why we also have helplines available. Credit to staff from the council and CVS Inverclyde for providing this service."
Fortnightly food bags were originally delivered to some 2,500 Inverclyde school pupils in place of free school meals following lockdown before being replaced with a cash grant every two weeks.
Parcels being made up in the town hall are now for the most disadvantaged young people and adults locally.
The FareShare food scheme sees council staff uplift supplies from the charity's Glasgow warehouse every Thursday.
Goods are then taken to the town hall for sorting before being collected by Belville Community Garden, Branchton Community Centre, Inverclyde Foodbank, The Trust, Parklea Branching Out, Barnardo's and Home Start Inverclyde.
The groups then redistribute the food, with the help of volunteers and businesses, to those who need it across the district.
To access help, call 01475 715275 between 9am-7pm Monday-Saturday.