£130k winter warmers for older people
OLDER people in Inverclyde will have more reason to cheer this Christmas thanks to a £130,000 support package towards festive lunches and heating their homes.
The council's policy and resources committee unanimously agreed to spend the money to help some 3,000 elderly residents.
Older people are in line for a £15 Christmas meal voucher to make up for the usual festive lunch events which have had to be cancelled due to the ongoing coronavirus pandemic and associated restrictions.
Grants towards helping to keeping household energy bills down for the area's elderly population will double from £75 to £150.
The Christmas lunch vouchers will be delivered in partnership with Inverclyde Community Care Forum (Your Voice) and the warm homes grants will be via Inverclyde Home Energy Advice Team (i.HEAT).
Councillor Stephen McCabe, council leader and convener of policy and resources, said: "Winter can be a tricky period financially for older people at the best of times and the events of this year have exacerbated that.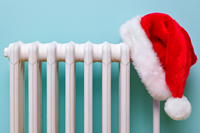 "Nothing will replace a Christmas lunch in-person, particularly the important social interaction element, but hopefully a voucher towards enjoying a nice meal at home will be a welcome boost to our elderly population and help spread some much-needed festive cheer.
"We also recognise that more elderly people are staying at home due to the pandemic and the knock-on effect is higher than normal utility bills so this additional funding is designed to help to ease that burden.
"I'm sure this package of support will be a timely welcome for our older residents at this time of year."
The usual Christmas lunch scheme for the elderly organised by the local authority and the Inverclyde Integration Joint Board (IJB).
It is expected around 2,000 older people will benefit from the replacement voucher scheme.
The council has set aside £30,000 for this from its new annual £1 million anti-poverty fund, which was set up in partnership with the IJB to help tackle deprivation and inequality across the district.
A further £100,000 will be made available to i.HEAT to provide advice and grants to qualifying older people in recognition of the fact that bills will be higher this year because there are fewer opportunities to leave the house.
Councillor Robert Moran, Inverclyde's older people's champion, said: "There's not been a great deal to cheer about this year for anyone, especially older people, many of whom have had to shield or been understandably worried about going outside.
"Both initiatives will be a timely and welcome boost to our elderly population."
It was agreed at committee that the funding for i.HEAT could be increased up to a maximum of £20,000 in the event there is greater demand for support.
*The application period for festive lunch vouchers has now closed.