Top author Alex Gray writes for Inverclyde
ACCLAIMED author Alex Gray has penned a piece exclusively for the people of Inverclyde to mark Book Week Scotland.
The Glaswegian crime writer has produced an article for the council's libraries service discussing the importance of reading, how vital it's been during the Covid-19 pandemic, sharing childhood memories of going to the library and exploring some of her favourite home-grown reads.
The piece, called 'Read All About It!', was specially commissioned to mark Book Week Scotland, which started on Monday (16 November).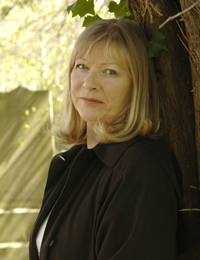 In it, the author encourages people to use the ongoing coronavirus pandemic to rediscover the joy of reading and to support their local library.
Gray says: "For, books do possess a sort of magic. Fiction can transport us to so many places, as if we actually had a secret portal from one of the Harry Potter books."
To celebrate Book Week Scotland, Inverclyde Libraries has a packed programme of online activities for all ages in addition to book collection and delivery services.
Councillor Jim Clocherty, Inverclyde Council's convener of education and communities, said: "Alex has hit the nail on the head when she says reading and libraries are a coronavirus 'get out of jail free card'.
"Reading is such an easy, effective and enjoyable way of escaping from all the trials and tribulations of the coronavirus pandemic.
"Our staff have done terrifically well to continue providing a first-class service throughout the pandemic so far, connecting with thousands of people at a time when we all have to look out for each other.
"With it being Book Week Scotland, there has never been a better time to rediscover the joy of reading."
While browsing the shelves is currently prohibited, books can be ordered and picked up via the 'Connect and Collect' service at Greenock Central, Port Glasgow, Gourock, Kilmacolm, and Inverkip and Wemyss Bay libraries – and now at Greenock's South West Library, which reopened last week.
The Greenock Central, South West, Port Glasgow and Gourock facilities are also open for pre-booked internet use and a 'Books on Wheels' delivery service is available for those who cannot make it to their local library.
All six facilities are also open for pre-booked internet use and offer a 'Books on Wheels' delivery for those who cannot make it to their local library.
Book Week Scotland runs from 16 -22 November 2020 and the theme this year is 'Future'.
It is organised by the Scottish Book Trust, which is also funding local activities.
There is a range of online activities for children and adults to encourage reading for pleasure.
As well as the special message from Alex Gray, there is an exciting 'Future Illustrator' competition for children aged 3-12, an online 'Bookbug visits the Museum' session, the launch of a brand new online adult book group and lots more.
For more information visit www.inverclyde.gov.uk/libraries or check out the Inverclyde Libraries pages on Facebook and Twitter.
***
Read All About It!
By Alex Gray
Every day we hear news about Covid 19 and the current state of lockdown but what if I suggested that there is a 'get out of jail free' card that everybody can use to escape it?
During these past few months the library card that is tucked away in your wallet or purse may have opened the doors of whatever place you have felt trapped. And that card is the key to finding books.
Lots and lots of books, piles of them, row upon row, shelves full just waiting for you to make your next choice or at least have the librarian choose them for you in these times. If not, then perhaps now is the time to find your card, or just pop along to the nearest library where a smiling librarian is waiting to help you find your way through the bars of that magical gate.
For, books do possess a sort of magic. Fiction can transport us to so many places, as if we actually had a secret portal from one of the Harry Potter books. As a child I walked eagerly along to my library each week, my stack of cardboard tickets tucked into one another, eyes shining in anticipation of what new stories I would find. I am certain that it is this early acquaintance with libraries that gave me the foundations needed to become a writer. Even at the age of 8 my primary four teacher told my parents that I was "going to be an author".
Right now, travel is restricted but what a wonderful thing it is to find other lands through a book, be it a work of fiction or something from the travel section. Perhaps you might follow Alexander McCall Smith to Botswana as he tells the tales of Precious Ramotswe, his Number One Lady Detective? Or maybe you would prefer to read something closer to home like Ann Cleeves Shetland series. If you have had to cancel a holiday, when you can, ask your librarian about books set in the very place to which you had hoped to journey and there is every chance they will find a book to transport you there.
While it seems that supermarkets are being ordered to keep their books under wraps as non-essential items, readers can still find solace in libraries. For my own part, books have been essential items under lockdown and they have made life immeasurably better. And there have been times, too, when I have felt a glow of satisfaction knowing that, as a writer, I have helped others to take time out from thinking about the pandemic and all its horrors.
So, wrap up well, crunch through these fallen autumn leaves and take a walk to your local library where you will find treasures to bring home and while away a few precious hours.