New tool in the fight against coronavirus
RESIDENTS across Inverclyde are being encouraged to download the new Scottish 'Test and Protect' mobile phone app to help with the fight against coronavirus.
The NHS Scotland software will help with contact tracing by alerting people who may be at risk of Covid-19 because they were in close contact with someone who has the virus.
It is free to download, does not track a person's location and is completely anonymous with no personal data being gathered, stored or passed onto third parties.
The app is designed to reduce the time it takes to alert those who come into close contact with another app user who tests positive for coronavirus to help break the chain of transmission.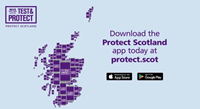 It will also warn any forgotten close contacts of someone who tests positive and to confidentially alert people who don't know each other, for example folk who may have come into contact on public transport or in a hospitality setting.
Councillor Robert Moran, Inverclyde Council's convener of health and social care, said: "The launch of the app is a timely boost for the fight against coronavirus after a spike in the number of cases in neighbouring local authority areas which has led to a number of local lockdowns across the Greater Glasgow and Clyde region.
"The app will help even further in breaking chains of transmission by quickly alerting anyone who has come into contact with someone who has tested positive for Covid-19 whether they are known to them or complete strangers.
"People will understandably be concerned about their privacy but the app does not collect, store or share anyone's personal data or track anyone.
"We're all desperate for the day in which we can return to normal but in the meantime we must do all we can to protect ourselves and each other from this horrible virus which has had a profound impact on every one of us.
"The Test and Protect app is a quick and easy way to help with the fight against coronavirus and encourage people to download it as soon as possible."
The app is now available to download for Apple Devices via the App Store and from Google Play for Android devices.
For more information about the Test and Protect app, visit the protect.scot website.