Pubs and restaurants urged 'don't let your guard down'
PUB and restaurant operators are being warned against complacency in the battle with coronavirus by the chair of Inverclyde Licensing Board in a direct appeal to 100 local premises.
Councillor Ronnie Ahlfeld has written to the licensee of every pub, bar, restaurant and social club urging them to remain vigilant because the deadly Covid-19 is still out there.
The letter, accompanied by posters with the most up-to-date safety advice, also reminds operators and staff of existing rules and new safety measures they must adhere to protect themselves and customers – and warns that 'swift action' will be taken where rules are not being followed.
Pubs and restaurants were allowed to reopen in July for the first time in four months since lockdown in March.
In his letter, Cllr Ahlfeld said: "I'm pleased to see so many of our licensed premises welcoming customers once again following an extremely difficult few months caused by the coronavirus pandemic.
"The hospitality sector is important for jobs, the economy and leisure – but we all have a duty to follow the health and safety rules to help suppress the spread of this deadly virus.
"We want to help local businesses recover but we have a responsibility to protect public health.
"Make no mistake about it, swift action will be taken where rules are not being followed."
The letter urges people to 'face the FACTS' and continue following the Scottish Government's five key rules: Face coverings, Avoid crowded places; Clean your hands regularly; Two-metre distance; Self-isolate and book a test if you have symptoms.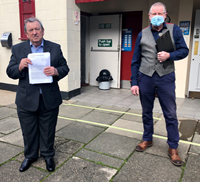 Licensees are also being reminded of new and existing national safety legislation affecting the trade, including the mandatory collection of customer details for 'Test & Protect'; a ban on playing music; table service only; and no more than three households should meet in venues at one time and up to a maximum of eight people.
Members of the public are also being encouraged to play their part in helping to suppress the spread of the virus whilst out enjoying a drink or a meal.
Cllr Ahlfeld, pictured at the Cardwell Bar in Gourock with owner Brett Clough, said: "The vast majority of Inverclyde licensed premises have implemented robust safety measures and are adhering to the rules, which are designed to keep us all safe.
"There is also a responsibility on the part of customers to do their bit and follow the rules and pay attention to guidance from staff.
"Now is not the time to let our guard down. We must stay vigilant because this dangerous and deadly virus is still among us.
"If we all fulfil our duties as responsible citizens by following the rules, we can continue to enjoy the things we've missed so much during lockdown and help get the local economy back on its feet."
Staff from Inverclyde Council's public protection team started delivering the letters and posters last week.
To read the letter in full and for more help and support for licensed premises, visit the Licensing Services Updates section of www.inverclyde.gov.uk/coronavirus.