Stay the course to avoid lockdown
Tuesday 8 September 2020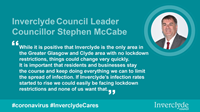 Council leader Stephen McCabe has called on residents and businesses across Inverclyde to stay the course on Covid.
The call comes as it is revealed that Inverclyde is the only place in Greater Glasgow and Clyde without local lockdown restrictions.
The Scottish Government has announced local lockdown measures to limit indoor gatherings in Glasgow, East Renfrewshire and West Dunbartonshire, East Dunbartonshire and Renfrewshire council areas.
The restrictions follow a recent increase in the number of coronavirus (Covid-19) cases with 78 new cases reported yesterday in the Greater Glasgow and Clyde area and 92 new cases on Sunday.
The restrictions mean:
people in the Glasgow, East Renfrewshire, West Dunbartonshire, Renfrewshire and East Dunbartonshire local authority areas should not meet with people from other households in indoor household settings.
people from these areas should also not meet people in indoor household settings in other local authority areas. Members of different households can continue to meet outdoors, including in gardens, and in hospitality settings, provided all existing guidance is followed.
indoor visits to hospitals and care homes will be limited to essential visits only to protect the most vulnerable. Outdoor visits to care homes are permitted by three people from a maximum of two households, in line with current guidance.
Councillor Stephen McCabe, Inverclyde Council leader, said: "While it is positive that Inverclyde is the only area in the Greater Glasgow and Clyde area with no lockdown restrictions, things could change very quickly.
"It is important that residents and businesses stay the course and keep doing everything we can to limit the spread of infection. It is also important that we all do what we can to support our neighbouring areas to stick to the local lockdown if you have family or other links to those areas.
"It is clear that Covid-19 has not gone away and it will not take much for the virus to take hold again. If Inverclyde's infection rates started to rise we could easily be facing lockdown restrictions and none of us want that."
Full guidance is available on the Scottish Government website and health information is published by NHS Inform online with local information and useful links available on the council's dedicated coronavirus pages on the council website.
Page last updated: 17 September 2020