Virtual Doors Open Days – discover Inverclyde at home
A WARM welcome is being extended to people from near and far to discover Inverclyde from the comfort of their own homes for Doors Open Days this weekend.

The annual event takes place on Saturday and Sunday and would normally see thousands of visitors take a sneak peek behind the scenes of various local landmarks.
Due to the ongoing coronavirus pandemic preventing people from visiting locations in person, Doors Open Days 2020 has gone online and there will be a series of virtual tours and videos this weekend to mark the occasion.
Among the places involved is the historic Greenock Municipal Buildings – the headquarters of Inverclyde Council – and the adjoining former fire station on Dalrymple Street, which is home to the Greenock Fire Museum run by the Scottish Fire and Rescue Service Heritage Trust.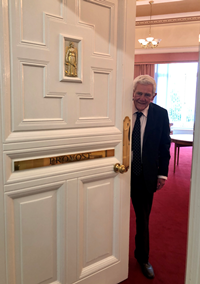 Provost of Inverclyde, Councillor Martin Brennan, said: "We have a wealth of beautiful buildings and fascinating places of interest here in Inverclyde and it's a real shame we can't show them off in person this year because of the pandemic.
"But the council and participating venues have collaborated brilliantly to produce a series of virtual, online tours and videos showcasing some of the amazing architecture, historic buildings and focal points and the stories behind them.

"Visitors from near and far can admire the places in this year's Doors Open Days from the comfort and safety of their own homes and whet their appetite to, hopefully, discover Inverclyde for themselves in the near future when the time is right."
A total of 10 buildings are involved in this year's Doors Open Day, which is coordinated by Inverclyde Council.
The other locations include the Belville Community Gardens and office, St Mary's Catholic Church, Watt Institution, incorporating the McLean Museum & Art Gallery, and Wellpark Mid Kirk, all in Greenock.
The Old Gourock and Ashton Church, Wemyss Bay Railway Station, Wemyss Bay & Skelmorlie Parish Church and the Royal Observer Corps Monitoring Post hidden bunker in neighbouring Skelmorlie complete the line-up.
David Adam, chairman of the Scottish Fire and Rescue Service Heritage Trust which runs Greenock Fire Museum, said: "We've been closed since lockdown began in March as have a lot of other places and we're normally one of the top tourist attractions in Inverclyde, particularly for cruise ship passengers. The museum welcomes between six and seven thousand visitors a year.

"We're looking forward to reopening again but it's looking like that won't now happen until at least January.
"In the meantime, we're delighted to be involved in Doors Open Days this weekend to showcase Greenock Fire Museum virtually and hopefully encourage people to visit us again at a later date."
For more information about Doors Opens Days and participating Inverclyde venues, visit www.doorsopendays.org.uk.