Change to Greenock one-way system
CHANGES are being made to a Greenock town centre one-way system which will see the current direction of traffic reversed.
Alterations are being made to Bruce Street to improve access to areas to the south of the street.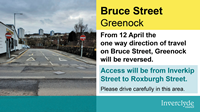 Currently, vehicles can turn onto Bruce Street from Roxburgh Street to join Inverkip Street, which is part of the A78 trunk road.
The new one-way system will mean there is access from Inverkip Street.
Bruce Street will remain two way between Roxburgh Street and Bruce Street car park.
In order to make the changes, Bruce Street will be closed from 6pm on Friday (9 April) until the new one-way system comes into effect at 10am on Monday 12 April.
The changes are being made following consultation with the trunk road authority.