Help with digital skills continues
HELP with digital skills is continuing this week for Inverclyde residents to get the most out of their devices.
Council staff will be on hand virtually on Tuesdays and Thursdays for six weeks delivering sessions on how people can get to grips with their smartphones and tablet computers.
The 'DiscoverIT Online' lessons start on Tuesday (13 April) from 2-3pm for those with iOS devices, such as an iPhone or iPad, and will begin on Thursday (15 April) from 11am-12pm for anyone needing help with devices featuring the Android operating system.
Sessions are being led by staff from Inverclyde Council's libraries service, who will also be able to help people get online before they begin.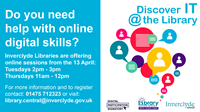 They follow on from the 'Device Advice' helpline, which started in February and is open on Mondays from 10am-11am and Thursdays from 2-3pm on 01475 712346 offering assistance with IT basics, such as turning on a device, connecting to the internet and using email.
An Inverclyde Council spokesperson said: "The 'DiscoverIT Online sessions' are part of our ongoing package of support to help residents with any issues they are having with digital devices and make sure they're getting the most out of them.
"Along with the 'Device Advice' helpline, we want to assist people with gaining the necessary skills to safely connect with others, shop or learn online.

"Technology and the internet have become such a huge part of everyday life in recent years but even more so over the last 12 months to help us stay connected during the pandemic.

"We want to support those who are inexperienced or new to the digital world to get the most out of their devices but also to do so safely.
"It's worth everyone remembering to be vigilant online – and over the telephone – and avoid becoming a victim of scams and other forms of cyber fraud."
Places for the Inverclyde Libraries 'DiscoverIT Online' sessions are limited.
For more information or to register, email library.central@inverclyde.gov.uk or phone 01475 712323.