Repairs service relaunches for free
A LIFELINE repairs service for older and disabled Inverclyde residents has restarted and is being made available for free.
Inverclyde Council's small repairs service, part of Care & Repair, is back up and running having been severely restricted during the coronavirus pandemic.
It is delivered by Bridgewater Housing Association on behalf of the local authority and provides assistance to homeowners who are over 60 or who have a disability with everything from basic plumbing and joinery tasks to minor electrical works and even things like moving furniture or hanging curtains.
Jobs are carried out by fully-qualified tradespeople like John Magee, pictured, free of charge with residents covering the cost of any materials or parts.
There is usually a small charge of £15 per callout or £45 a year for unlimited access but that has been waived until March 2022 after Bridgewater HA secured charitable funding from the Garfield Weston Foundation.
Councillor Michael McCormick, Inverclyde Council's convener of environment and regeneration, said: "This really is a lifeline service for so many older and disabled people throughout Inverclyde.
"There is usually a small fee for the service to help cover the running costs but it's great that Bridgewater has secured external funding to allow us to provide it for free until March next year.
"Even the most basic of tasks can be extremely difficult or even impossible to carry out for people who are older or living with a disability so it's important that we look after these vulnerable groups to ensure they can access reliable and trusted tradespeople to keep their homes in a good state of repair and ultimately improve their quality of life."
Alison McManus, project manager for Care & Repair, said: "This is great news for our customers who we have sadly been unable to help for the most part of the last year.

"To be able to provide this service free after such a challenging year is very satisfying and we are so grateful for the support that the Garfield Foundation has shown.
"Although the charitable funding is only available until March, this will allow us to get back to helping people with repairs around their homes while we look into other longer term sustainable options."
The service has proven a godsend for long-time customer Margaret Williams, 75, who cares for her husband Archie, 83, at their home in Wemyss Bay.
They have been using Care & Repair since it started in 2001.
Mrs Williams said: "It's such a valuable service that we're both are grateful for.
"John is like a family member and is someone I trust implicitly.
"He's so resourceful and so innovative when it comes to repairing items within our home.
"What have they done for us, it's a case of what haven't they done.
"John recently sourced a replacement toilet seat that is no longer manufactured which, in turn, saved the cost of replacing the toilet completely.
"Care & Repair has also provided advice on larger works required, repaired small leaks, fitted hooks for washing lines, installed sockets and sealed the shower screen.
"The list goes on and on.
"I don't know what we'd do without them."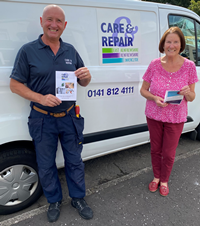 The small repairs service is for home owners and tenants of private landlords who are over 60 or who have a disability only and to tenants of housing associations who meet certain criteria.
Work will not be carried out where it is the landlord's responsibility.
If anyone is unsure if they can access the service they can call the Care & Repair team for advice on 0141 812 4111.
The team will not undertake any jobs that are the responsibility of landlords or where there is someone living in the household who is aged 17 or older and able to do the work.
Staff are also unable to carry out work for parents or guardians of a disabled person unless it is related to the wellbeing, safety or security of that person.
For more information, visit www.inverclyde.gov.uk/smallrepairs or phone the Care & Repair team on 0141 812 4111.